Dream Doll Hinting More Plastic Surgeries and Tattoos – Pain is Pleasure
Published Mon Aug 05 2019 By DGM
The American rapper, model, and reality television star Tabatha Robinson aka Dream Doll has gone under the knife and had four plastic surgeries done to her body.
Unlike most of the celebrities who are reluctant to admit about having plastic surgeries, Doll has openly confessed about having the works done to enhance her beauty. Here is a brief evaluation of the changes that she has had.
Dream Doll Before & After Surgery
Tabatha has had some serious changes on her body and has transformed drastically throughout these years. She has had transformations on her lips, breast, belly, and buttocks which she openly agrees to.
Here is a picture of the rapper before and after: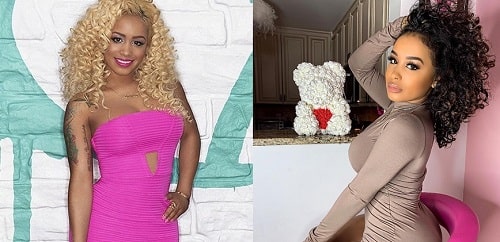 From the above picture, we get to know that the 27 years old writer's belly is tucked and stretched out whereas her breasts have been implanted and lips have been filled via fillers. So, it can be fair to say that her whole body contains plastic, wouldn't it?
Breast Implants and Surgery
Breast Augmentation is one of the four plastic surgeries that the Bronx born artist has revealed about having on her body. Dream Doll had implants on her breasts due to which they appear more larger and attractable.
The work on her breasts have probably been a fine masterpiece of knife which hasn't left her regret of her decision at all. And why would she? After all, she has been successful in achieving a wonderful body after surgery.
Liposuction
The final cosmetic surgery that the American rapper has had is the liposuction. It is a procedure which helps to reduce the excess fat from a person's body, mostly belly. It is true that Dream Doll removed most of the unwanted fat from her stomach and has that curvy body currently from the post-surgery.
The 'When It's Over' singer has been very much appreciating the outcome of her lipo which has helped her in gaining the most attractive body as a woman. She doesn't regret her decision of going under the knife and plucking out the excessive fat from her belly.
Lip Fillers
Robinson who recently had a break up with YBN Almighty Jay has also confessed of having her lips injected with fillers. She used to have lips of an average woman before the procedure but they have now become much bigger and attractive. This decision of her has resulted in a pair of super lips. Her smile has been probably something that a lot of men die for.
Buttocks
Dream Doll who has an estimated net worth of $8 million has also used a surgeon's knife on her buttocks. Prior to the surgery, she used to have buttocks of normal size and weren't much noticeable before.
After she chose to have the Buttocks implants, her buttocks size eventually increased giving her the Instagram model look. She usually flaunts her gorgeous body on her pictures, courtesy of the successful Buttocks augmentation.
Reason Behind Going Under The Knife?
The major reason behind the flawless model having all these plastic surgeries is a man. Yes, Dream Doll fell in love with a man when she was in high school. Unlike most of the motivating and supporting boyfriends, he used to criticize her of her chubby and average body.
Tabatha's boyfriend pushed her to become more like all the other curvy girls and demotivated her by all means. And as she loved him with all her heart, she went under the knife and made the changes so that her boyfriend would appreciate him. But opposite to her expectation, he still cheated her with another girl.
The incident broke the bold singer into pieces, so she advises other women not to change themselves for others. If you really want to do it, do it for yourself. However, she doesn't regret her choice because it has made her more beautiful. According to her, 'Pain is Pleasure' and she even has two songs 'Life in Plastic' and 'Life in Plastic 2'.
Tattoos of Dream Doll
The 'Love & Hip Hop: New York (LHHNY)' star has inked at least 10 tattoos on her body. Here is a description of the tattoos combined: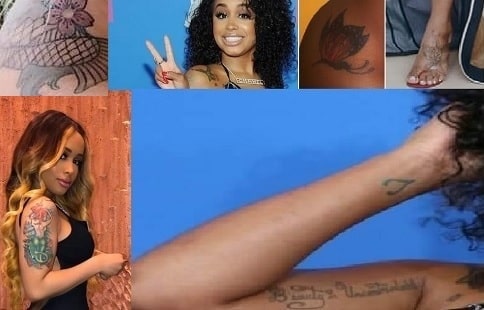 Butterfly on Left Waist
Dream Doll has a butterfly inked on her left waist which is a symbol of transformation, faith and freedom.
Fish & Flower on Right Waist
On the right waist, the elder sister of four has a fish drawn along with a flower on top of it. The fish tattoos which symbolizes adversity, strength and determination is very huge and flower which symbolizes femininity is a bit small one.
Beauty is Uncontrollable
The 'Bundles' rapper has inked a writing on her right biceps that reads 'Beauty is Uncontrollable'.
Mermaid on Right Arm
Just beside the above given writing, Baby has a beautiful mermaid drawn on her hand which symbolizes independence, mystery and freedom.
Matching Tattoo With Sister
Past March, the multi-talented artist inked a tattoo on her left wrist that matched with the tattoo of her sister's right hand. The tattoo is of a cute cartoon girl that connects to the other one. They both planned to have the tattoo for a very long time and were very happy when they did.
Symbol on Right Wrist
The African-American rapper has some kind of symbol drawn on her right wrist. The tattoo appears more like a heart but it is not joined at all.
Flower on Right Shoulder
The millionaire personality has also inked a lotus flower on right shoulder that symbolizes beauty and purity.
Rose Flower on Left Feet
Robinson has inked a rose flower on her left feet which represents new beginnings, promise and hope.
Two small symbols beside the Lotus
Last not but the least, the star has two dots inked just below her lotus flower tattoo.
Visit Glamour Path for more Celebrity plastic surgeries and tattoos.