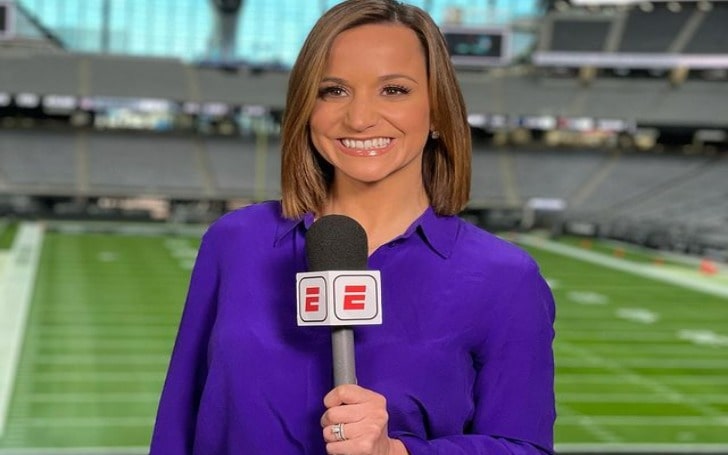 Dianna Russini is an American sports journalist who presently works for ESPN on NFL Countdown and NFL Live as an NFL host, reporter, insider, and commentator. She started her career in 2003 and got her biggest break in 2015 when she joined ESPN as a SportsCenter Anchor. She was one of the first reporters on the scene following the Sandy Hook Elementary School shooting which covered the Boston Marathon bombing.
Dianna is well-known among sports fans for more than her athletic ability. Her appealing appearance and professionalism helped her establish herself as one of ESPN's most well-known and popular correspondents. During her academic years, she was also an athlete, having played four seasons of women's soccer.
Early Life and Education
Dianna Russini was born in the Bronx, New York, on February 11, 1983. Her parents are Camille and Rick, and she has a younger brother and sister named Nicole. Her passion for journalism blossomed while she was a student at Old Tappan High School in New Jersey. She on the other hand, never really committed to journalism due to her deep love of sports. She was an All-State athlete in four sports in high school, including basketball, soccer, softball, and track. Russini was a three-year starter for the varsity basketball team despite being a 5-foot-6 forward.
Russini enrolled as a soccer walk-on at George Mason University after graduating from high school. She earned a Bachelor of Arts in Journalism degree. Despite the fact that it was her weakest sport, she was determined to show her friends that she could compete at the Division 1 level. And she did, quickly rising through the ranks to become the team's starting striker by her sophomore year. She was a four-year starter for the University's soccer team. In 51 games for George Mason, she scored seven goals and had one assist.
ESPN Career
Russia didn't give up on her dream of becoming a journalist; after soccer sessions, she'd intern at various local radio stations. However, she was undecided about which one to prioritize until the 9/11 attacks in 2001. Her father was in Tower 1 but survived the attack, and she decided to pursue a career as a journalist as a result. She was only five weeks into her college soccer career at George Mason University at the time. She rekindled her interest in journalism while still in college by performing internships at local radio stations after soccer sessions.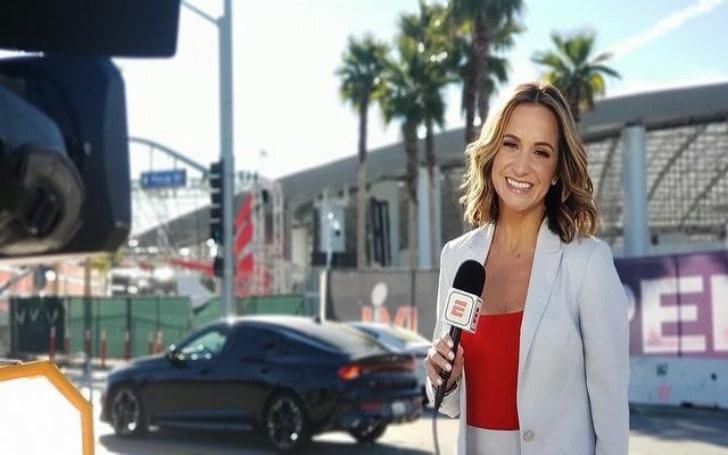 From 2003 until her graduation year in 2005, Russini worked for Comcast as a Student Sideline Reporter. She worked at News 12 Westchester for two years, from 2005 to 2007. For almost a decade, she worked for WNBC in New York, Comcast Sports in Seattle, and Portland, NBC 30 in West Hartford, Connecticut, and NBC in Washington, D.C. after that. Her background in athletics allowed her to land numerous sports assignments, including reporting for NBC Connecticut on the UConn women's basketball team and WRC-TV on the Washington Redskins. In September 2015, she was hired by ESPN. Russini mentioned in her interview with High School Sports that she worked as a local sports anchor for the parents of the guy who runs SportsCenter before getting the job. They "put in a good word" for her, she revealed.
Dianna Russini's Net Worth
Dianna Russini's net worth as of 2022 is estimated to be more than $30 million. Her annual salary is roughly $300,000. She has yet to confirm the information.
The journalist claimed to have worked for the ESPN channel since the year 2015. As a result, we may reasonably expect her pay to be in the range specified.
Physical Stats
Dianna Russini's body measurements are 34-25-35 inches, with a 34B bust size, a 25-inch waist, and a 35-inch hip.
Her eyes are light brown, and her hair is dark brown. She stands at a height of 5 feet and 6 inches and she wears a shoe size 9 and a dress size 6.
Marital Status
Dianna Russini married her now-husband Kevin Goldschmidt. Before exchanging wedding vows on September 26th, 2020, the pair dated for a few years. The wedding was held in a private ceremony, following social distancing protocol. Despite the small number of guests there, the ceremony was magnificent.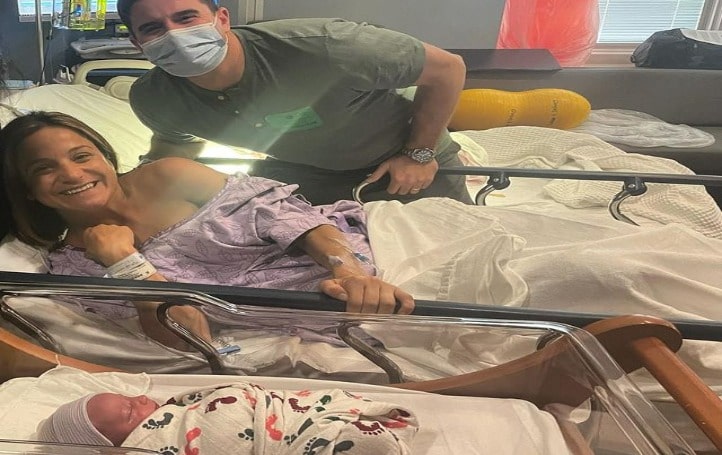 The wedding, however, was webcast live to the rest of their family.
Due to the covid-19 pandemic, people were unable to attend the wedding. With her adored hubby, the lovely couple had a kid named Michael Andrew. Their son was born in the summer of 2021. To date, he is their only kid.
Controversy and Rumors
Dianna was accused of the unthinkable shortly after starting her employment at ESPN in 2015. Jessica McCloughan, the wife of Washington Redskins general manager Scot McCloughan, accused her of being her husband's side chick. Jessica McCloughan made the assertions on Twitter, but her account was quickly removed, leading many to believe her account had been hacked.
Mrs. McCloughan later apologized for her conduct, stating they were unacceptable. A number of sports writers chastised Mrs. McCloughan for her actions, claiming that her remarks were based only on the common misunderstanding of female sports journalists.
Previous Relationships
The stunning journalist had a number of romantic relationships. She dated American baseball player David Wright in 2008, however, the relationship appears to have ended after a year.
There are also allegations that she is dating Olympic gold medallist swimmer Michael Andrews. She's also said to be secretly married to a Manhattan hedge fund manager.
Who is Kevin Goldschmidt?
Kevin Goldschmidt was born on June 6, 1985, in Pennsylvania, and has lived in New York. He earned a bachelor's degree in finance from Penn State University in 2007. Soon after, he got a job at SEI as a supervisor of account operations analysts. From 2007 through 2011, he worked there. He departed in 2011 to work for the Hay Group as a senior analyst. He was hired as a compensation analyst at AmerisourceBergen in Pennsylvania in 2013.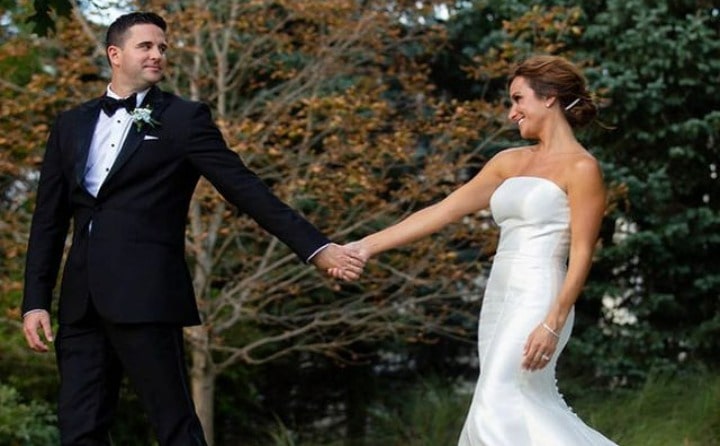 In 2015, he went to Aramark, a Pennsylvania-based company, where he worked as a senior executive compensation analyst for more than three years. Goldschmidt returned to AmerisourceBergen in 2018 as the executive compensation manager. Kevin, is currently the director of Total Rewards at Shake Shack, according to her Linkedin profile. He started as a Senior Manager at Shake Shack in October of 2019.
Social Media Presence
The media personality is active on Instagram, Twitter, and Facebook, among other social media platforms. Her Instagram account under the username of @diannaespn currently has roughly 155k followers and 2,800 posts. In addition, she currently has 267.2k Twitter followers and 33k Facebook followers.
On the other hand, she also owns a YouTube channel and has posted just 5 videos altogether. She does not appear to be active there, as the account has less than 400 subscribers and the most recent video was posted four years ago. We can tell from her social media that she has a sizable fan base all around the world.
If you want more updates on your favorite celeb, then keep following our page Glamour Path.
-->