Know David Banda Mwale Ciccone Ritchie - Madonna's Adopted Son With Guy Ritchie
Published Sun Dec 29 2019 By DGM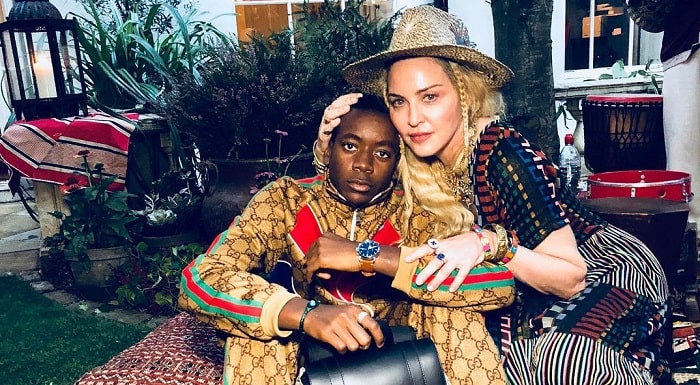 David Banda Mwale Ciccone Ritchie is a celebrity kid and the adopted son of the famous American singer, actress, and businesswoman, Madonna Louise Ciccone or just Madonna and her ex-husband, English film producer Guy Ritchie. He was born on the 24th of September, 2005.
The name 'David' is a masculine name according to Hebrew origin which means 'beloved'. Here are some facts about him:
Has Five Siblings
David has five siblings; two elder siblings from his mother's previous relationships and four younger siblings. Lourdes Leon is his eldest sister and Rocco Ritchie is his elder brother whereas Estere Ciccone, Stelle Ciccone, and Mercy James are his younger siblings. His younger siblings are also adopted from Malawi by Madonna just like him.
Lourdes was born from Madonna's previous relationship with actor Carlos Leon and Rocco was born from her marriage with Ritchie. Stella and Estere are identical twins.
Death of Biological Mother Led to Adoption
We do know that David Banda Mwale Ciccone Ritchie is the adopted son of the 'Ray of Light' star but there's a story behind his adoption. He was born in Malawi to father Yohane Banda and his wife. His parents were in extreme poverty that they couldn't even afford to buy basic means for living. Due to health complications, his mother passed away moments after giving birth to him. And because of this, his father, Yohane gave him away for adoption after which the Home of Hope Orphan Care Centre in Mchinji looked after him.
When David was 13 months old, he suffered from tuberculosis and pneumonia. And as Madonna visited the orphanage on one of her world tours, she saw and immediately thought of adopting the child who needed help. After a long battle in court, she finally got the permission to raise the child with her ex-husband, Ritchie. As of now, David has grown up to become a healthy and athletic teenager.
Celebrated 13th Birthday with a Big Bang
Last year, in 2018, Madonna celebrated her second son's birthday by hosting a lit birthday party. The singer posted some pictures and video of the birthday party which featured several guests and all of her kids were dressed up so well. She even uploaded a picture of David with his younger sisters and all of them were dressed up in Gucci just like him.
Along with the kids, the picture also featured Boujemaa Bouboul, a musician from Morocco who was dressed up in traditional red Gnawa attire. The 13th birthday of David was absolutely amazing and it is obvious that he celebrated a similar party this year as he turned 14 passed September.
Is a Talented Football Player
As we mentioned earlier that Madonna's adopted son has grown up to become an athlete, he has established himself as a talented football player. He is currently playing for the 'Benfica Youth Team' where he is a valuable asset.
When news broke out that the teenager was about to sign with the team, the Juventus star, Cristiano Ronaldo tried to convince Madonna to make her son sign for Sporting Lisbon instead. Ronaldo tried to persuade the singer because it was the club he graduate as a teenager. However, David didn't sign for the team and remained on Benfica Youth Team where he played significant role and also won Best Performer several times.
Is Also a Musician
Besides being a talented footballer player, David is also very good at singing just like his mom. He has done a collaboration video with his mom where he has sang the song 'Can't Helping Falling In Love' by Elvis Presley. Not only did he sing the song magnificently, but he also played the keyboard so exceptionally and the duo looked surely impressive.
Parents' Net Worth
David's mamma, Madonna is a very rich personality who has made millions throughout her career as a successful actress, singer, businesswoman, and songwriter. She has accumulated a whopping net worth of $850 million from her career.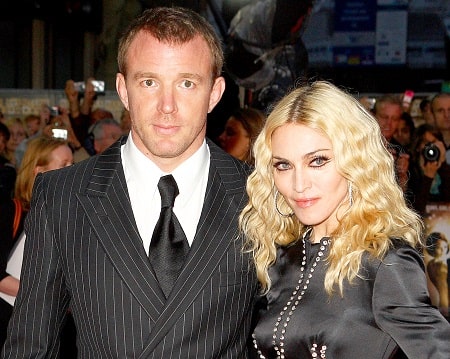 Talking about David's father, Guy is also very eminent person in the film industry. She has also achieved an estimated fortune of $150 million from his career as a film director, businessman, screenwriter, and producer.
Parents' Relationship
David Banda Mwale Ciccone Ritchie's parents were previously married and together for about eight years. They married back in December 22, 2000 and had a son named Rocco from their marriage. As things didn't always go right in the marriage, the couple thought of splitting which they did in November 21, 2008. Though the couple separated, they promised to raise David and Rocco together as responsible parents.
Following the split, Ritchie married English model Jacqui Ainsley in 2015 whereas Madonna hasn't married anyone else.
Visit Glamour Path for more latest and interesting updates about other celebrities' babies.
-->