Facts About Danielle Wyatt – English International Cricketer
Published Wed Jul 17 2019 By DGM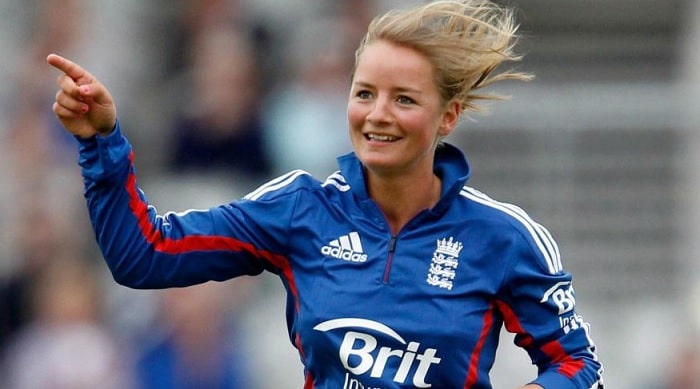 Danielle Wyatt is a professional cricket player for the England Women's National Cricket Team. She also plays cricket as an all-rounder in the women's Twenty20 cricket team 'Southern Vipers' and wears the jersey number 28.
Danielle was born on the 22nd of April, 1991 in Stoke-on-Trent, Staffordshire, England. She made her initial debut in England's women team in an ODI against India on March 1, 2010.
Here are 10 facts about Danielle Wyatt:
Net Worth
As a cricketer for the England Women's National Cricket Team, Danielle earns a huge amount of salary. Plus, the salary of England women cricketer had a 40% of increment in their salary from last year i.e. 2018. Currently, she holds a net worth of $3 million.
Relationship Status - Single
The 28 years old (as of July 2019) cricketer is currently single as of 2019. She has not been linked with any rumors of dating or engaging with someone. Most of her fans are curious why such a beautiful lady is still single.
Career as a National Cricketer
Danielle debuted in the England's Women Team in the year 2010 when England faced India in an ODI in Mumbai. She is a right-arm off break baller and bats in the middle order.
Before playing for her nation, she won the MCC Young Cricketers contract through which she sharpened her cricketing skills a lot and made it to the national team.
Wyatt has helped her country win the 2017 Women's World Cup held in England which is a big accomplishment for her career.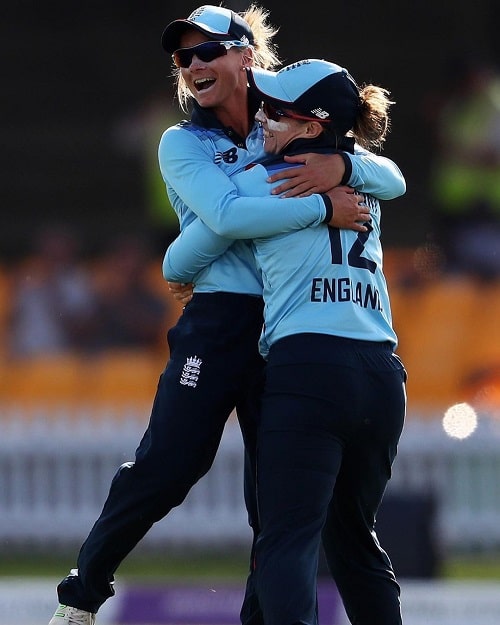 Dog Lover
The eminent cricketer is a dog lover and loves dogs very much. If you go through her Instagram pictures, you'll see that she has posted pictures of her pet dogs. She shares the lovely pictures of her with her furry friends which is a lovely thing to admire!
Proposing Virat Kohli For Marriage
It was back in 2014 when Danielle publicly proposed the current captain of the Indian Cricket Team, Virat Kohli on social media. She took it to Twitter and tweeted;
Kohli marry me!!!
It was bit of an awkward way that the celebrity chose to express her feelings for Virat, who is now married to Indian Actress Anushka Sharma. She was trolled a lot by people on Twitter from all across the globe for her proposal.
Virat didn't accept her proposal either and said that they are just good friends only. It was a bit of embarrassing year for the English player. Though she couldn't marry Kohli, she is still good friends with him.
Close Relationship With Family
As we mentioned earlier that Danielle is a single lady, she spends more time with her family instead. She is very close to family members, especially with her niece, cousin, and little brother.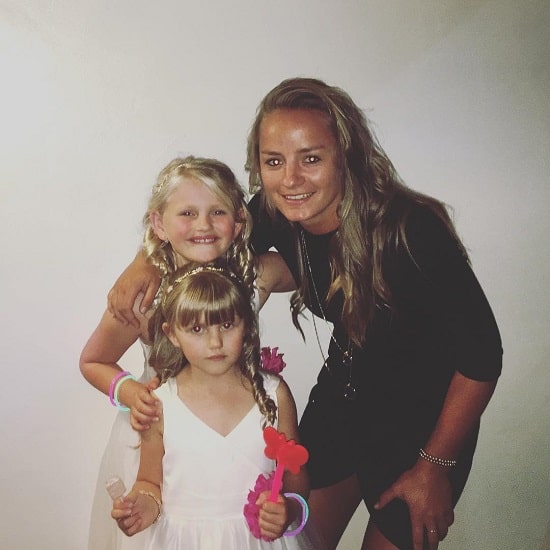 Wyatt often posts pictures with her partners in crime where they are seemed to have a very lovely and fun time together. Her pictures feature her little niece and cousin the most. This symbolizes how much she loves her little fellows.
Wyatt Loves Travelling
As Dani gets to travel across the world for cricket matches, she has developed a great passion for travelling around the world.
Out of her free or off-time, she manages to utilizes it to travel with her team-mates and friends to the beautiful places in the world. She loves getting close with nature and enjoy the beauty of it.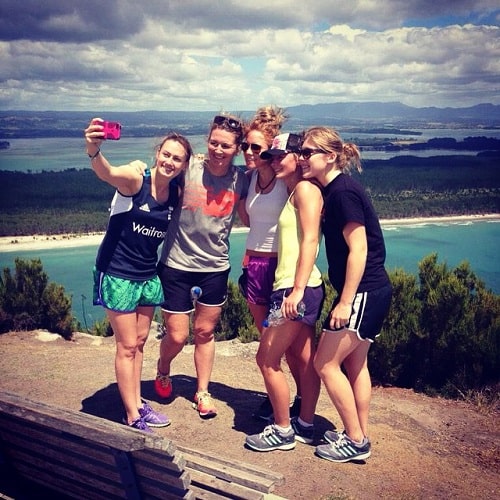 Virat Kohli Gave A Bat To Danielle
Virat Kohli, who was once a crush of Danielle gave her a cricket bat back in 2017. After she got the bat, she used the bat in few cricket matches. She used the bat mostly for her training.
As the bat was given by her then crush, she didn't use it much but instead, she has kept it as a token of love. See the picture of the bat that Kholi gifted Dani below: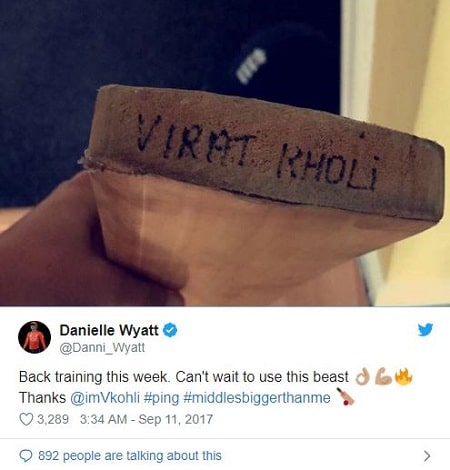 Body Traits
The talented cricketer from England stands at a height of 5 feet 3 inches tall and owns a fair white complexion. Blonde hair with brown eyes make her a beautiful lady and has maintain her body quite well as a sportsperson.
Social Sites
The fast baller of the England's Women National Team is available on social platforms such as Instagram and Twitter. She has 136k followers on Instagram with 1100+ posts where as she has a total of 192k followers along with 18k tweets.
Wyatt is usually active on both sites where she posts pictures of her with friends and families. If you want to know what goes around in her life, you can follow her for sure.
Visit Glamour Path for more sports' Celebrity facts.
-->