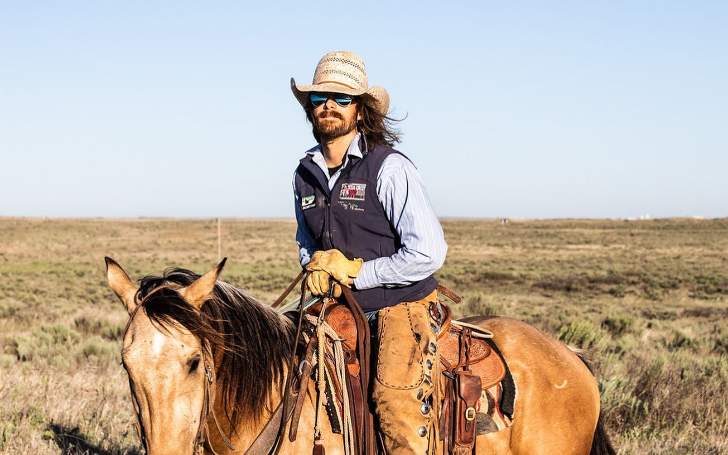 Dale Brisby is a famous media personality who came to recognition as the star of the 2021 Netflix reality series How to be a Cowboy. Professionally, he is a rodeo cowboy, bull rider, and rancher. However, he became a media personality as a YouTuber and star of Rodeo Time.
The rodeo contestant, Dale, is also the host of the comedy podcast called Rodeo Time With Dale Brisby. Also, he is well-loved among the public for his fun cowboy content along with his 20 years old bronc named Boone. Moreover, he is also the brand ambassador for Can-Am Motorcycles.
Physical Appearance Of Dale
Like many other bull riders, Dale has depicted his cowboy appearance with his long shoulder-length blonde hair. He is a natural blonde with brown colored eyes.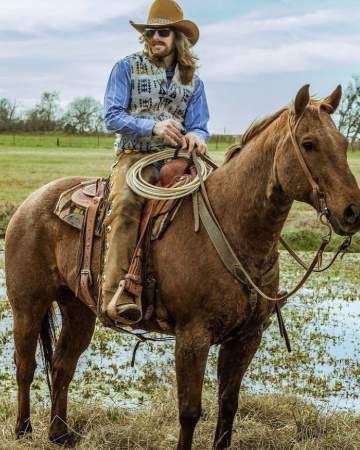 The bull rider Dale stands at a tall height of 6 ft 2 inches. Since he has been a cowboy his whole life, he has maintained a good body. Moreover, he reportedly weighs around 60 kg.
Net Worth Of Dale
The net worth of the rancher and the bull rider, Dale Brisby, is estimated to be over $1 million. Since, he is also an entrepreneur and brand ambassador for Can-Am motorcycles, apart from being a bull rider and a media personality, he has multiple sources of income for the mass fortune.
Moreover, he owns a brand named DALEWEAR, which sells clothing and accessories for cowboys and bull riders.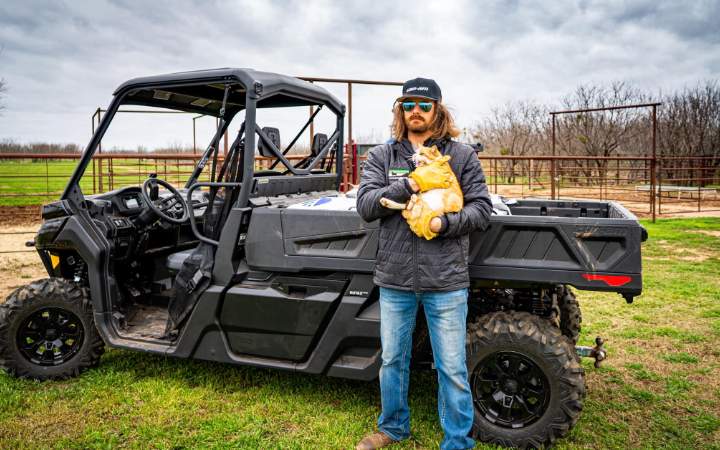 Dale is also a ranger manager at Radiator Ranch Cattle Company. Though his show How To Be A Cowboy has helped him a lot to grow in fame and money, his primary source of income is his profession as a ranger manager. He also earns a fair share of his money from the content on his youtube channel.
Early Life And Education
Dale is a Texan born on May 21, 1987, in Texas, United States. Born as Clint Hopping, he was brought up in a wealthy household. Though he hasn't disclosed information about his parents, he revealed in an interview that his grandfather was an entrepreneur while his father was a rancher and a member of the Professional Rodeo Cowboys Association.
Since Dale's father was a cowboy himself, he grew up in the races and rodeos. Growing up in such an environment made him interested in pursuing the same career. In the interview, he also said he liked being a Rodeo Cowboy the most. He said;
"Everything was second to being a Rodeo Cowboy! As a young man, I always had entrepreneur tendencies. My Grand-Dad was an entrepreneur, and my Dad was a Cowboy. That was the best combo, I think, for Dale Brisby."
Moreover, Dale is an alumnus of Texas A&M University who pursued Agriculture in 2005. He graduated from the university in 2011 with a master's degree.
Leroy Gibbons Is Dale's Brother
After Dale starred in the show with Leroy Gibbons, many fans wondered if the duo were real brothers. And we are very glad to inform you that the co-stars of the show How to Be a Cowboy, Leroy Gibbons and Dale Brisby, are indeed brothers. The musical artist, Leroy, is the older brother of Dale.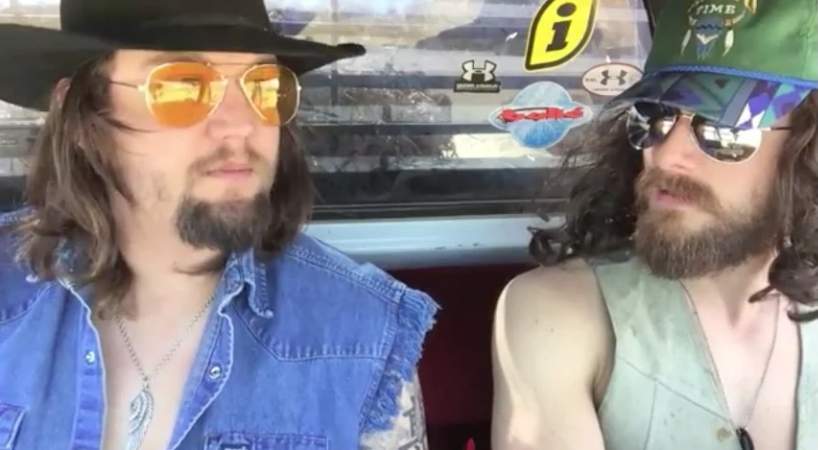 Reportedly, they also have an older sister who allegedly has also appeared numerous times in Dale's ranching videos. Moreover, the sources also claim that their sister also appeared in the Netflix series named Dancey Reel.
What Is The Relationship Status Of Dale?
You will all be surprised to know that the champion bull rider, Dale Brisby, is married. That's true. Since there hasn't been an instance where the champ has ever talked about his love life, you all must have felt a bolt out of the blue.
According to sources, Dale is married to a woman named Macy Hopping. And reportedly, the couple has been married since 2014. The source also alleges that they met while studying at Texas A&M University.
Relationship With Kadee Coffman Blair
In 2021, the famous bull rider Dale Brisby revealed that he dated former Miss Rodeo California Kadee Coffman. Since this is also taken as one of Dale's fun stories, most of his fans know this. However, his other general viewers might not know and be oblivious to this.
Dale first revealed Kadee being his ex-girlfriend in one of his youtube videos. Since then he has talked about his relationship with Kadee a couple of times. Moreover, he also reunited with her at one of the shows and even gave her birthday wishes.
However, though Dale claimed to have had a relationship with the former Miss California, Kadee has never talked about the matter. So most of his viewers also take this as one of his made-up stories since he is a comedian with a fun personality.
Let's Go Into His Career In Depth
Though Dale had started bull riding earlier, he started competing officially in 1967. At first, he competed in PCRA sports. Later on, in 2004, he became the ranger manager at Radiator Ranch Cattle Company. The ranch is located in Winnebago, Texas.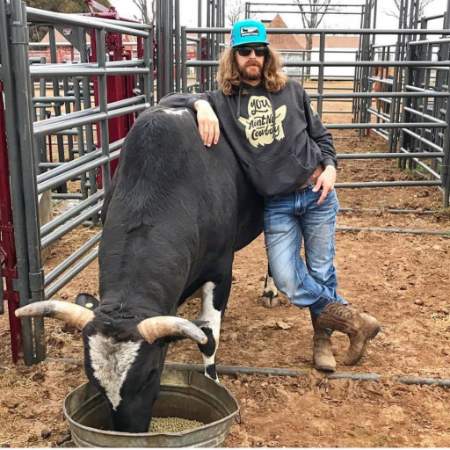 Then in 2013, Dale started his own YouTube channel. He started posting about cowboy life and ranch content to share experiences of country life and an American cowboy. Then he started gaining mass followers and a prominent presence on other social media sites.
And after becoming well-loved by the public, Dale starred in the Netflix series How to Be a Cowboy. After the series, he started gaining more exposure and focused on expanding his business. So he started his own brand, DALEWEAR, which sells clothing and accessories.
Social Media Handles
Since Dale is a media personality who built success through his media career, he is active on most social media platforms. He likes to be as active as possible and share his moments with his fans and followers.
Dale is available on Instagram under @dalebrisby. Moreover, he has a pretty good presence and has over 950k followers. Similarly, he is active under the same username on Twitter as @dalebrisby. However, he has comparatively fewer followers around 44.5k followers.
Moreover, Dale is also available on Facebook with over 798k followers. And his official TikTok as @dalebrisby90 has over 1.2m followers with an overall 17.2m likes.
YouTube Handles
As already mentioned, Dale Brisby runs a YouTube channel. He posts content relating to cowboys, bull riding, and the types of equipment for riders. He started his channel to keep the tradition alive. Moreover, the personality joined the platform back in 2013. And he posted his first video in April 2014.
On YouTube, Brisby regularly uploads informational and comedy videos about the life of a cowboy and rancher. Moreover, he shares the platform with his 416k followers. After around nine years, he has uploaded over 700 videos and amassed over 68.6 million video views.
To know more about the celebrities, visit our site Glamour Path.
-->