Chavante Mack Dental Surgeries and Tattoos – Before and After Pictures
Published Sun Sep 15 2019 By DGM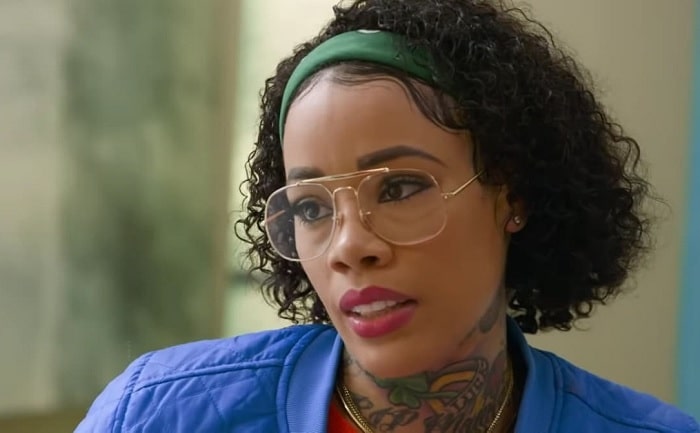 The famous American rapper and reality television actress Chavante Mack who is also known as Che Mack has done a dental surgery to fix her teeth and is also rumored to have had liposuction surgery. She is also an avid lover of tattoos and has inked almost every part of her body.
Mack has always denied all the allegations and accusations that she faces about her having any plastic surgery. Here is everything regarding her plastic surgery rumor and tattoos that she has on her body:
Che Mack Before & After
Chavante who holds an amazing net worth of $120,000 has transformed quite a bit through her days in the VH1 show and as a mamma of her cute daughter Ginger.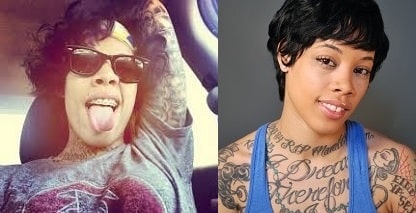 Che has had a dental surgery and is also rumored for having a liposuction after giving birth to her daughter.
Dental Surgery
It is the one and only surgery that the 35 years old Chavante Mack has had in her life. She had it because prior the surgery, her teeth weren't perfect and mismatched. She just didn't like the way her teeth used to be which eventually made her take the decision of modifying the appearance of them by going under the surgeon's knife.
She flaunted her beautiful smile wearing those braces which helped her alter and perfect her imperfect smile. As of now, she has removed them because her teeth are in great shape now.
Liposuction
As you all know, Che Mack is a beautiful artist who has a very sexy and gorgeous body. Despite giving birth to her daughter a couple of months back, she doesn't seem like she is a mother of one. Yes, nobody can say that she has given birth to her baby some time back because she has a slim body like a teenager.
This has made a lot of her fans think that she had liposuction surgery which helped her loose the excess fat from her belly. However, the rapper denies everything and says that regular exercise and proper diet is the key to her slim and beautiful body.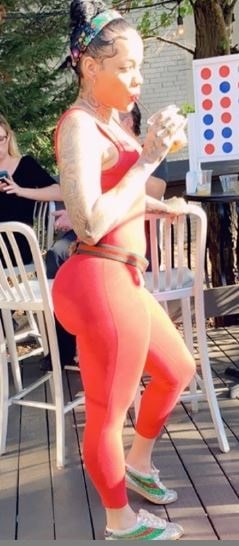 Tattoos & Their Meaning
The black American rapper has countless number of tattoos inked on her body with each holding different meaning in her life. Some of the tattoos on her body are given as follows: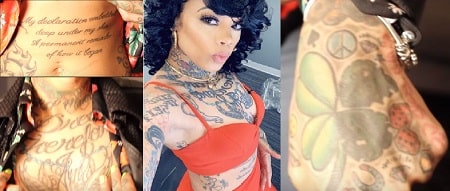 Symbol of Peace on Left Hand
Che, whose mother was kidnapped, has inked a symbol or logo of peace on the backside of her left palm. The logo represents that the holder loves peace.
Spade on Left Hand
Mack also has a spade inked on the backside of her left pal which is considered to be a symbol of good luck and fortune.
Four-Leaf Clover
A big four-leaf clover which is considered to be the symbolism of good luck and something good is inked on the backside of the reality television actress palm left hand. Two out of the four leaves appear burned out and black.
Dices
The mother of Ginger Specelle Mosley has two dices inked on the backside of her left hand. The dices on her tattoo are known be the symbol of gambling and taking risks.
Diamonds
The 'Love & Hip Hop: Atlanta (LHHATL)' star has also inked three diamonds on her left hand which are considered to be the symbol of inner beauty, wealth, and the power of money.
Smiley
A smiley is also inked on the hand of the beautiful actress.
Horseshoe
Horseshoe who is better known as the symbolism of protection is also inked on the backside of the Chavante Mack's hand
Charm Bracelet
There are also few little charms that form up a bracelet kind of tattoo on the wrist of the 'Be Ya Self' artist.
Acorn on Left Back-palm
Also on the back-palm of the left hand, Chavante has a small acorn inked which represents strength and life.
Writing on Belly
The beautiful rapper has inked her belly with a writing that reads 'My declaration embedded deep under my skin, A reminder of how it began'. She inked it as it is a part of her song which has become a part of her life.
Writing on Chest
Mack has a writing inked on her chest with big letters that reads 'I Dream Therefore I Am, I am Pisces and That's What We Do'. She said that she inked it because she thought that it was a nice quote. She also two birds and a small heart below the writing.
Chavante on Left Arm
On the lower left arm, the stunning artist has inked her name Chavante. She inked it to symbolize that loving yourself is very important.
Check Glamour Path for more latest updates of celebrity plastic surgeries and tattoos.
-->