Charlize Theron's Plastic Surgeries and Tattoo With Their Meaning
Published Thu Sep 26 2019 By DGM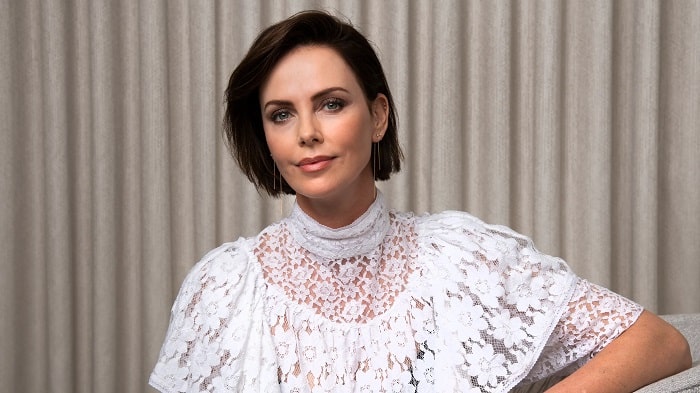 The famous South African-American actress Charlize Theron has been rumored to have she went under the knife and got the job done in her face. She has done a dental surgery to solve the tooth pain which she had a couple of years back. She has also inked two visible tattoos in her leg.
Theron has never admitted that she had surgeries on her face which may be because of her reluctance to speak about them. Here are the surgeries that she is rumored to have done along with the tattoos in her leg:
Charlize Theron Before & After
Charlize Theron, who has a net worth of $130 million has altered her face a lot throughout her career in film industry. Take a look at the picture below:
In the above picture, we can see a small but definite change in the face of actress. She has been alleged of having her face, nose, and chin done.
Dental Surgery
It was back in 2017 when the beautiful actress suffered a severe tooth pain while she was filming for her movie 'Atomic Blonde'. At first glance, she took it as a cavity after the pain became even worse she knew that it was way more serious. After visiting the doctors, she was told that one of her teeth needed to be replaced with a dental surgery where as the other one needed a root canal.
Following the dental surgery, Theron had to put a donor bone in her jaw so that she would fine and fast. After she healed quite well following the implant, she had another surgery in order to a metal screw in her teeth. She returned back to shooting with all energy and thanked the doctor at the premiere of the movie.
Nose Job
The first rumor that the 44 years old actress has been linked with is nose job. Fans claim that she reduced and changed the appearance of her nose a little bit.
Previously, her nose used to a bit thicker and today, its size has reduced ultimately also with slimmer formation. It can be easily achieved though nose job, so there are high chances that she indeed had her nose done.
Chin Augmentation
Stuart Townsend' e-wife has also been rumored to have her chin done because the bottom of her chin appear a bit more pointed and sharp in comparison to how it used to be in the past.
The structure of Charlize Theron's chin used to round-shaped before but it didn't take long to transform into a sharply pointed chin. Take a look at the picture below of her from past and present: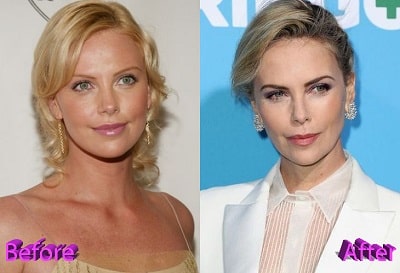 As you can see, Charlize's chin looks a bit renovated due to the sudden and shocking sharpness that came out of nowhere. The change of her chin's structure highly indicates towards the use of surgeon's knife.
But it can also be an outcome of the slight weight less she had because weight loss also can play a game-changing role. It doesn't matter, she had her chin done or not, she is still a beautiful actress whom many men are willing to die.
Botox
As the 'The Fate of the Furious' star looks so stunning and beautiful still at the age of 44, people have speculated that she has also had her face injected with Botox. It is because her facial skin is still so glowing and shiny with no sign of wrinkles and folds on her face at all.
However, Theron says that she has never had anything done to her face and is 100% natural. It can be possible through all the work she puts to keep her body fit and gorgeous.
Tattoos & Their Meaning
Charlize Theron has inked two visible tattoos in her body up to date and each of them hold a special meaning for her. They are given as follows:
Koi Fish on Ankle
Theron has a koi fish inked on her right ankle which represents overcoming odds and succeeding in achieve a goal. The tattoo surely relates to the actress as she has been able to gain a lot of success in her filming career.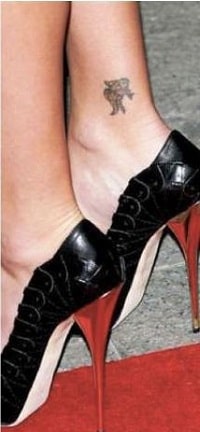 Flower on Her Foot
The mother of August Theron and Jackson Theron has another tattoo on the top of her right foot. The tattoo is of a blue flower which is the symbolism of metaphor for life.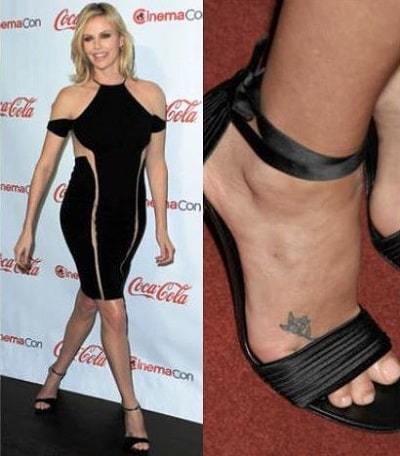 Check Glamour Path for more plastic surgeries and tattoos of other celebrities.
-->