Looks Like Carrot Top's Plastic Surgery Is A Fail
Published Thu Sep 19 2019 By DGM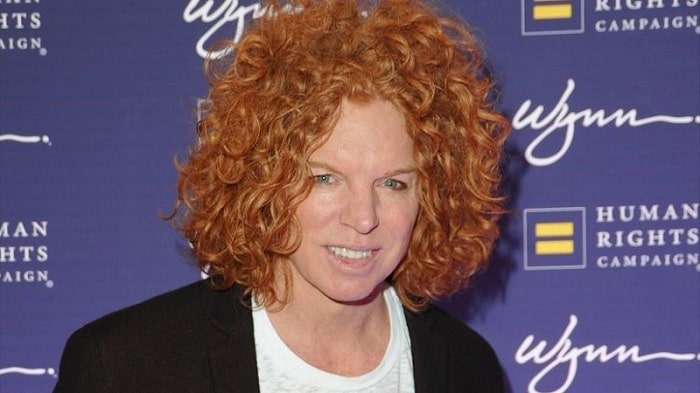 The famous American stand-up comedian and actor, Scott Thompson who is mostly renown as his nickname Carrot Top has been rumored to have gone under the knife and had severe changes in his body.
Scott has always denied the rumors of him having any surgeries done to his body and says that he looks good and different because of his makeup but some consider it as surgery disaster. Here are all the possible surgeries that he has been expected to have done:
Carrot Top Before & After
Carrot, who has an amazing net worth of $75 million, has transformed a lot throughout his career. If we compare him from past and present, there have been many shocking changes on his body. The picture given below can be taken as an instance: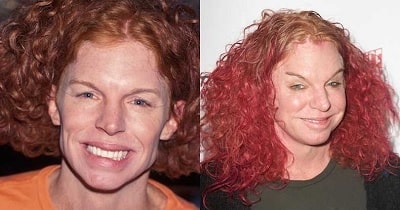 As you can clearly see in the picture, there are some easily differential alterations in the face of the actor. Here are the surgeries that the picture indicates.
Botox
The 54 years old comedian has been speculated to have injected his face with Botox injections. It is because his face is tightened and tucked in comparison with how it was in the past.
The skin near his eyes and nose appear so tightened that it is even hard to say that he has crossed fifty years of his life. This is a strong evidence that he might have applied the cosmetic injections in his face.
Laser and Chemical Peels
The 'Chairman of the Board' star is also rumored to have laser and chemical peels applied to his face. If you aren't familiar with these surgical procedures, they are meant to improve the smoothness and texture of a person's face.
The comedian has been linked with this surgery because his face has exactly altered as the treatment would do to one.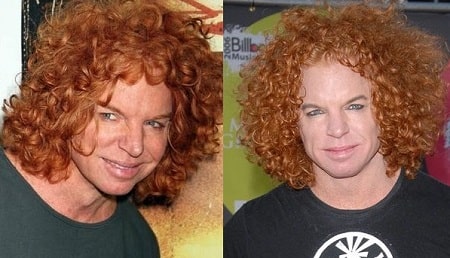 Scott's face wasn't as shiny as it is now and also consisted some freckles in his face in the past which have now disappeared shockingly. Today, his face looks so bright and glowing, thanks to the alleged surgery despite his denial.
Lip Fillers
The allegations and accusations on Carrot Top also include that he plumped his lips and got a fuller and filled up appearance by using the magical fillers on his lips.
If you've known him from the beginning of his career, there are some clearly noticeable changes on his lips that are very promising in proving this rumor. As years passed by, his lips gained more area with and increase in its size.
Steroid Injections
Rumors also circulate that the eminent actor had steroid injections, which are used to build up body muscles quickly, injected on his body.
The clear reason behind this is the shocking growth of biceps and triceps on Thompson's body. Take a glimpse at the picture given below: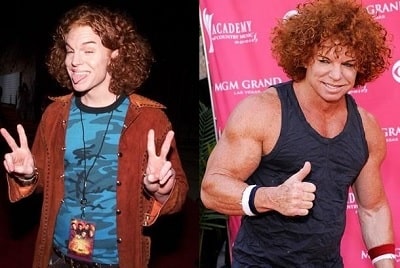 As you can easily differentiate, the comedian didn't have a muscular body in the past as he currently has. Plus, it is also not the case that he gained it after several months of workout, he had it all of a sudden like some sort of magic.
Therefore, this rumor is pretty strong that he indeed injected his body with steroids.
Eyebrows Lift
Amada Hogan's boyfriend has also been insinuated that he had a brow lift to raise his eyebrows because his eyebrows weren't as high as they are at present. They have been way more raised if you take a look at his pictures from past and present.
His highly raised eyebrows appear to be a scary ghost's from a horror movie. Fans even troll him by saying his face resembles a lot to as the scary character from the hit movie 'IT'.
Check Glamour Path for additional celebrity plastic surgeries and their disasters.
-->