Cardi B Plastic Surgeries and Tattoos
Published Tue Aug 13 2019 By DGM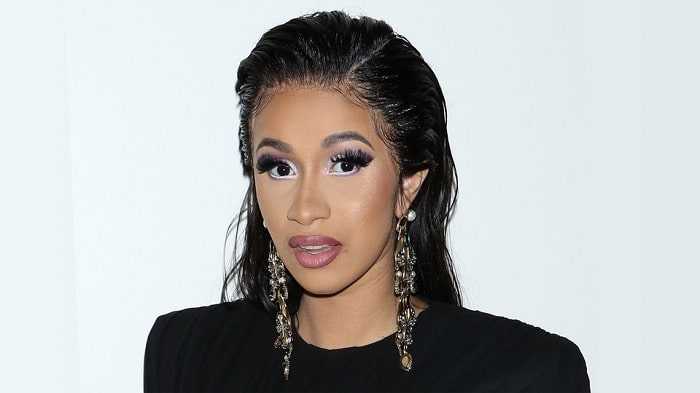 Cardi B whose real name is Belcalis Marlenis Almánzar has done four plastic surgeries and has inked a total of 9 tattoos on her body.
Cardi has been very open when it comes to admitting her plastic surgeries. She has admitted that she opted foe four cosmetic surgeries in her life.
Here is a brief description of the surgeries and tattoos that she has had:
Cardi B Before & After Platic Surgery
Cardi B has changed a lot throughout the years as a stripper, reality television star and as a rapper and a singer. Her whole has transformed in all these years, from her face to her body, everything has distinctly changed.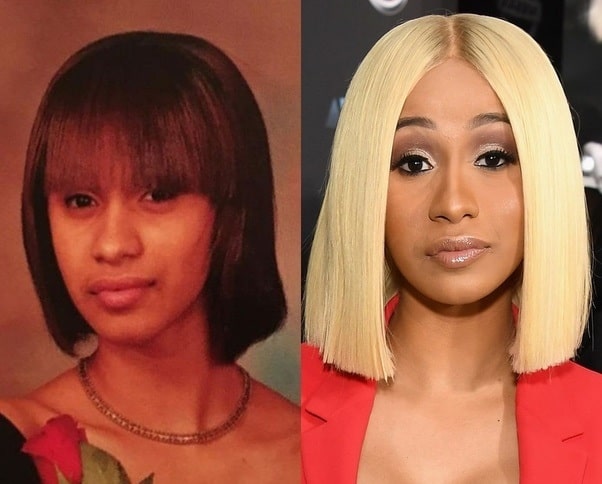 From the above picture, we can easily get to know that the eminent rapper has had her breasts, buttocks, and belly fixed. Plus, he also had a dental surgery to fix her teeth.
Breast Implants
Breast Implants surgery is something that the 26 years old Rapper is very familiar with. Cardi has revealed that she first had her breasts implanted when she was just 19 years old.
And in addition to that, she again opted for any breasts augmentation procedure a couple of years back. That work seems to have worked perfectly for her because she has been able to get such a gorgeous body.
Liposuction
The 'Bodak Yellow' rapper has also openly admitted for going under the knife and getting her belly shaped perfectly. Yes, she underwent a Liposuction surgery to eliminate the excess fat from her belly. And the reason behind this is post-pregnancy.
Last year, she gave birth to her daughter Kulture Kiari Cephus with her husband Offset. And the post-pregnancy resulted her getting a fatter belly. So, she had to take the help from a surgeon's knife and hence, she did Liposuction and removed all the fat of her stomach.
Buttocks Implant
Cardi b who holds an impressive net worth of $8 million has also done a major surgery which is buttocks implant. She has been very open about her buttocks implant and said that she had her buttocks enhanced during her days as a stripper. Her buttocks have been shaped in a perfect shape giving her the Cardi Bardi appearance.
Expensive Dental Surgery
Offset's wife has also opened up about having her teeth fixed via dental surgery. The most interesting thing about this surgery of her is that it costed her a whopping amount of $40,000 which isn't much of a big deal for the star.
Cardi says that if you don't like something in you, you have every right to change it, you don't have to care about what people say. She currently has one of the best smiles in the hip hop industry, thanks to her expensive dental procedure.
Cardi's Done With Plastic Surgeries
It was last month when the former Love & Hip Hop: New York (LHHNY) star tweeted on her Twitter account saying she's done with all the complications she had to face after the plastic surgeries. She even had to cancel some events due to them.
The complications include her feet swelling whenever she rides on a plane and her Lipo doesn't allow her to walk a long distance. So, it is pretty sure that the star is facing disasters from her plastic surgeries and no longer wants to have any of them in the near future.
Tattoos & Their Meaning
Cardi seems to be fond of needles because has inked a lot of them. Here are everything about the 9 tattoos that the African-American rapper has inked on her body:
I Love You Sign
The 'I Like It' rapper has inked a I Love You sign expressed with the help of a hand along with a star near it. The tattoo probably shows her love for her hubby and hip hop.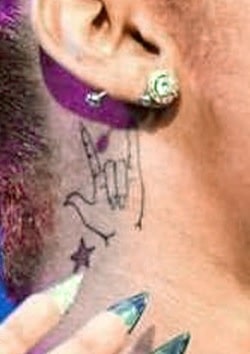 Samuel on the Back
Bardi has a writing inked with red ink on her upper back that reads 'Samuel'.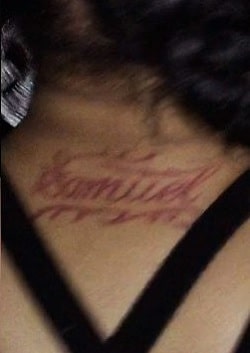 Offset on Left Leg
This tattoo is the most recent tattoo that the rapper has inked on her body. She recently had a writing tattooed on the back of her left leg. The writing reads Offset which is her husband's name. This clearly shows the eternal love of her for her rapper husband.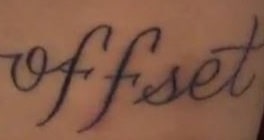 Cheetah on Left Hip
Cardi has a blue Cheetah tatted on her left waist which goes up to her tummy. The Cheetah tattoo symbolizes swiftness, insight and focus.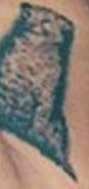 Peacock
Cardi has a huge watercolor styled peacock tattoo which starts from her right side stomach and goes down till her thighs. The peacock tattoo expresses royalty, vitality, nobility and sexuality.

Quote on Bicep
The gorgeous singer has a quote "Loyalty Over Royalty" inked on her right bicep. The quote very much sums up the fact about her being loyal to anyone'. She says that you have to loyal rather than being royal.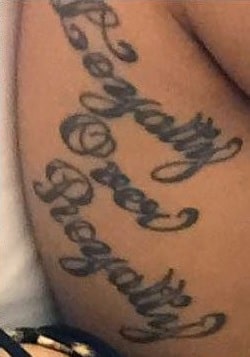 Hennessy on Left Bicep
On the left bicep, Kulture's mamma has a name of her sister Hennessy inked. And the writing is surrounded with some roses. She just took the sibling goals to a next level.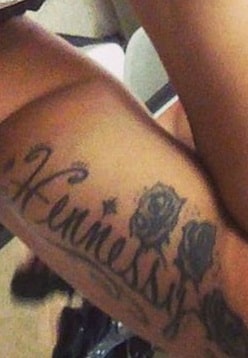 Tommy G on Left Wrist
Cardi got her ex fiance's name, Tommy G, tatted on her left wrist who was in prison at that time and also made an Intagram post about how he makes her happy even when he's at the prison and their relationships more than just about sex.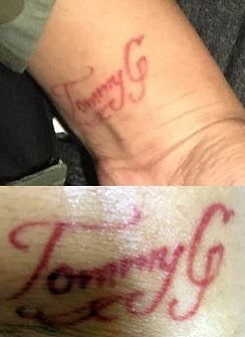 Belkis on her Right Wrist
The bold artist has a letter carved on her right wrist that reads 'Belkis'. And you are wondering what it is then it is her real name Belcalis a bit nicknamed and made Belkis.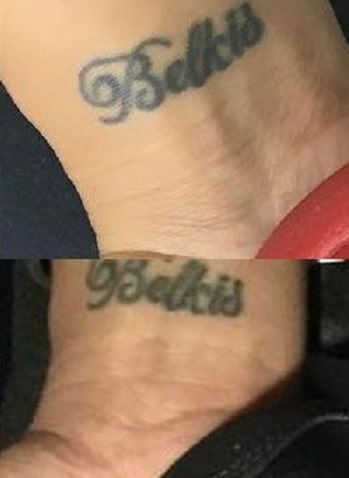 Glamour Path for more scoops on Celebrities Plastic Surgeries and Tattoos.
-->