Cara Delevingne's All 20 Tattoos and Reasons Behind It
Published Tue Oct 15 2019 By DGM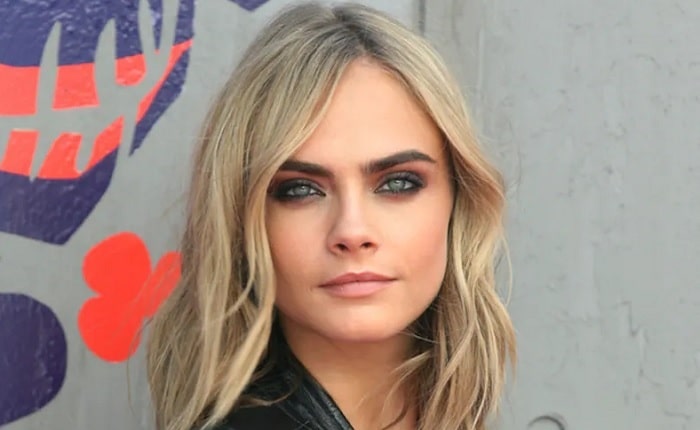 The famous English model, actress, and singer, Cara Delevingne is fond of getting inks and has a total of 20 tattoos inked on her body.
Every single tattoo that the 'I Feel Everything' singer has on her body holds a specific meaning of its own. Here are all the tattoos with their appropriate meaning:
Lion on Right Index Finger
The lion tattoo inked on the index finger of Cara Delevingne's right hand is the first ever tattoo that she got on her body. The lion represents her astrological sign, Leo and she got the ink to show that she has been fearless from her childhood and is also fearless in her modeling career.
Writing Under Her Breasts
The 27 years old model also has inked a writing under her breasts which reads 'Don't Worry, Be Happy'. The words 'Don't Worry' are under her right breasts where as 'Be Happy' are under her left breasts. The tattoo is the everyday mantra of the gorgeous lady.
Snake on Back Palm
Delevingne has also inked a beautiful snake near the edge of her left palm which extends down to her middle finger. According to her, the tattoo represents feral along with new beginnings and new life as snakes shed old skin with new.

Wasp on Middle Finger
Ashley Benson's partner has also inked a little wasp on the middle finger of her left hand. According to African tradition, the wasp tattoos is the symbol of evolution and control over circumstances of our life.
Yantra Tattoo With Eyes
Cara Delevingne, who has a net worth of $28 million, has a yantra tattoo inked on the back of her neck. The tattoo is inspired from Yantar tattooing introduced by the Khmer people.
The tattoo contains specific sacred meanings for her. As for the eyes above the tattoo, they were later added by the tattoo artist Keith "Bang Bang" McCurdy.
Writing on Left Foot
The writing 'Made in England' has been inked on the bottom of the left foot of Cara. She inked the tattoo in order to represent her hometown i.e. London, England.
Coat of Arms With Five White Dots
The 'Mirror' writer has also inked a coat of arms along with five white dots on her rib cage. She got the tattoo on her body as she is really proud of her roots. D which represents her last name is featured at the bottom of the tattoo whereas wings and a crown at the top of the tattoo make it look more amazing.

There are five white dots above the coat of arms. They are a bit less likely visible at first glance but if looked closely, we can see them. The each white dot represents her family members who are her loved ones.
Writing on Right Bicep
Delivingne has a writing inked on her right bicep which reads 'Breathe Deep.' The tattoo has been inked with white ink and with the motive that it would help her to remain calm and cool minded in most situations.
Roman Numerals
The Roman numerals XII has inked on the right rib cage of the London born model. It was inked by tattoo artist Daniel Tucci as 12 is the lucky number of Cara.
Red Heart 10
Red heart which is supposed to represent love for someone has been inked on the pinkie finger of Cara's left hand. She must have got the tattoo to show her love for her partner, Ashley Benson.
White Dove
Dove tattoo which is a symbol of peace has been inked on the index finger of the Cara Delevingne's left hand. The tattoo has been drawn by white ink which makes it more fascinating.
Mother's Name on Left Bicep
There could be no better way of showing love for your mom than having a tattoo of her name. Yes, Cara Delevingne has also inked her mamma's name, Pandora on her left bicep. This clearly shows how much love the model has for her mamma.
Diamond and Stars on Left Ear
A diamond along with some stars forming a southern cross constellation has been inked on the left ear of the beautiful model. The diamond is inked on the inside of her ear whereas stars surround her ears. She got the constellation like tattoo as it is a symbol of Brazil plus she got the tattoo inked on her trip to Rio de Janeiro. The tattoo was inked by the Brazilian artist, Daniel Tucci.
Matching Double D With Best Friend
In 2014, Cara got a double D tattoo, 'DD' inked on her hips along with her best friend forever, Jourdan Dunn. The double D stands both of the friends' last name which starts from D. The tattoo is a pretty example of friendship goals.
Initials On The Side of Right Hand
On the outside of Cara's right hand, she has her initials inked which is 'CJD'. It is because her full name is Cara Jocelyn Delevingne.
Artwork on Left Forearm
It was back in 2018 when the beautiful actress inked her left forearm with a beautiful artwork. She was inspired to get the tattoo from the artwork by a famous artist from Denmark, Emil Landgreen. The tattoo represents a naked woman cuddling a tiger and was inked by Cara's favorite tattoo artist, Bang Bang.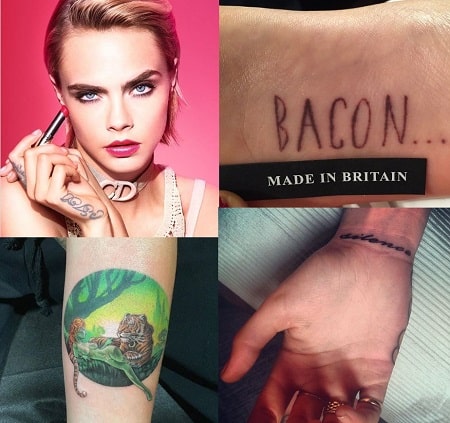 'Silence' on Right Wrist
The secy model has the word 'Silence' inked on the right wrist and was also inked by tattoo artist, Bang Bang. She says that she got the tattoo because silence speaks for her when words can't.
'Bacon' on Left Foot
The 'Paper Towns' star has also inked the word 'BACON...' on the bottom of her left foot. She showed her immortal love for her favorite pork meat, Bacon by tattooing it on her foot. She also stated that the three dots after the word was meant to be an open-minded statement.
Smiley on Left Leg's Toes
Cara once got the bottom of her toes inked by her co-star, Margot Robbie from the movie 'Suicide Squad'. She and Margot would call the tattoo toe-mojis as they both inked one another's toe with smiley faces. However, the tattoo doesn't seem to be permanent as they said the had to kept redoing them because they would rub off after some time.
Elephant on Right Arm 20
On the center part of the right arm, Delivingne has a tattoo of an elephant inked. As she is a huge lover of animal tattoos, she got the ink in 2016 by the famous tattoo artist, Dr. Woo.

Temporary Flower on Head
The bisexual singer Cara Delevingne had also inked a temporary tattoo on her body at a time. She had her hair cut very short and inked a temporary geometric flower which represented unity, harmony, and balance. Though the tattoo wasn't a permanent one, it was still worth listing.
Follow Glamour Path for more latest updates about celebrity tattoos.
-->