Get to Know Cameron Britton - Actor From "Mindhunter" & "The Umbrella Academy""
Published Sun Jan 12 2020 By DGM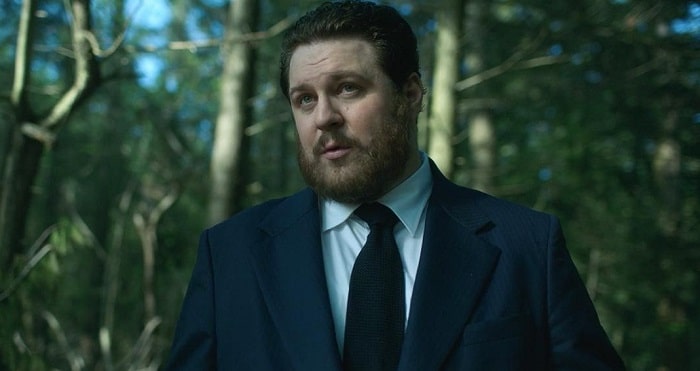 Cameron Britton is a famous American actor appearing in movies and television shows. He is best known for appearing as Ed Kemper in the hit Netflix crime drama television series 'Mindhunter' and as Hazel, in another popular Netflix series 'The Umbrella Academy'.
Britton was born on June 6, 1986, in Burlington, Ontario of Canada. Here are some facts about him:
What's his Net Worth?
Britton has had a very successful career as an actor which has helped him earn a lot of fame and money. He has made about $500,000 from her fruitful acting career which will surely increase in the coming years.
His work along co-stars: Ashley Madekwe who played the role of Detective Eudora Patch and Colm Feore who played the role of Sir Reginald Hargreeves in 'The Umbrella Academy' has played a major impact on his earnings.
Is a Happily Married Man
The 'Edmund Kemper' portrayer is a happily married man who walked down the aisle with the love of his life. Though he has not disclosed his spouse's name till now, the couple very often make public appearance together whenever there are premieres of Cameron's movies and TV shows.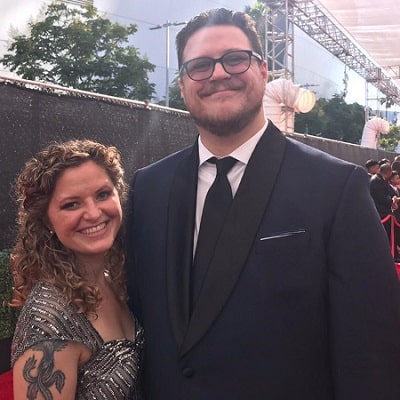 Britton appeared with his wife last year at the Emmy Awards when he was nominated for his portrayal as the serial killer in the 1st season of 'Mindhunter'. He even posted a cute picture of them together on his Instagram captioning that his partner looks like an angel with the gorgeous tattoo which she has on her upper right arm.
Previously Worked as a Teacher
Before rising to fame as the television sensation through 'Mindhunter', the Canadian-born actor has come a very long, long way. He previously used to work as a preschool teacher for special and differently able kids for eight years. He used to teach kids from 18 months to 3 years old during his time as the teacher for the needy children. Though most of us remember as the serial killer he played, he truly has a golden heart.
Used to Go Fishing With Dad
As a child, the 'Camp Takota' star used to spend a lot of time with his father. On weekends and holidays, he used to go fishing with his dad where he accompanied his dad and learn fishing with him. He has also shared an adorable picture of him from childhood fishing with his dad. The father-son duo appeared to be fishing at the wrong direction which the actor also pointed out in the caption of the picture. The picture probably gave him a lot of nostalgia of his childhood.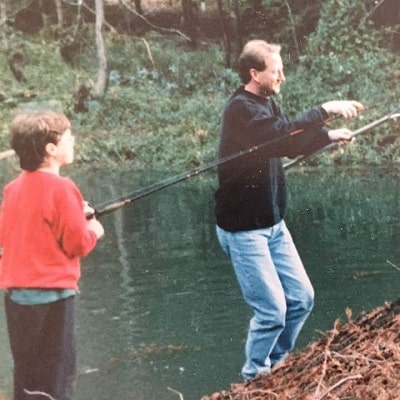 As of now, Britton still manages some spare time from his busy schedule to meet his parents. He recently shared a picture with his mom, Julianna Martinelli, which surely looked too cute.
Is a 49ers Fan
Britton is a football fan who follows the every stats of National Football League (NFL). Specifically, he is a crazy fan of the San Francisco 49ers team. He has been supporting the team since his teenage years when he used to wear the team jersey and show up to the arena with his cousins to watch the matches of his favorite team.
Social Media Accounts
As Cameron is a very famous personality, he is present on Instagram and Twitter. He has immense number of followers's base of 90.5K on his Instagram account which goes by the name @cameronbrittonh. His Twitter account also goes by the same username but has 18.1K followers. He frequently keeps updating about his activities and doings on both of his accounts.
Dog Lover
Apart from being a talented and exceptional actor, Cameron is also an avid dog lover who has great passion and love for the furry animals. He has stated that he, in the past, used to fear American Pitbull dogs but when he got one few years back, he says that it isn't that scary and difficult at all. Till date, he has kept three pet dogs, each of different breed. In addition to that, he has also petted a cute cat who has also adjusted very nicely with his three fur babies.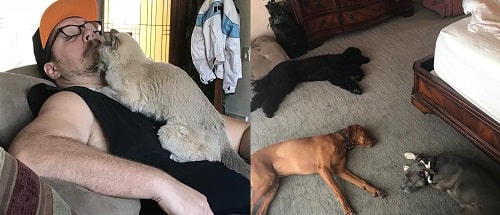 Physical Measurements
Cameron Britton stands at a height of 6 feet 5 inches (1.96 m) and has a body mass of around 275 lbs (124.74 kg).
Was Too Short For 'Mindhunter'
Can you believe that Cameron Britton nearly lost the role of the psychopath serial killer in 'Mindhunter'? He almost failed to be selected for the character because of his height. Yes, it was because of his height (6'5) which lagged him behind in order to impersonate the killer. Edmund, the serial killer, originally stands about 6 feet 9 inches. So, as the director of the Netflix series wanted a person as taller and as the right age as the killer. However, the director couldn't find any other better actor to play the role and had to finalize Britton.
Therefore, if Cameron hadn't been selected for the crime series because of his height, we wouldn't have known him for what he is famous today.
Visit Glamour Path if you like seeing more of the interesting and latest information regarding other famous celebrities.
-->