Buzz Aldrin's $12 Million Net Worth - All Earnings of The Second Man to Land on Moon
Published Thu Sep 10 2020 By Aashika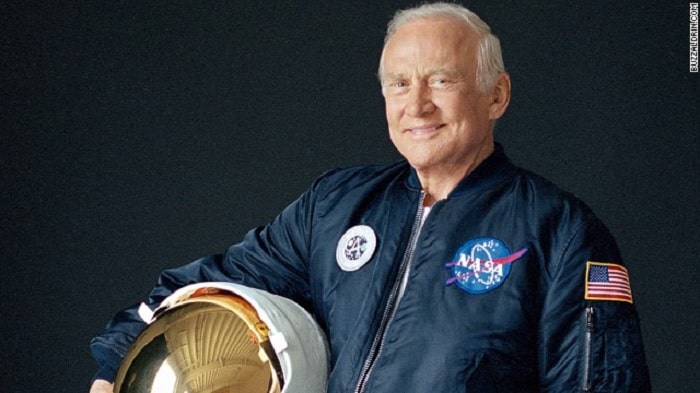 Buzz Aldrin has a whopping amount of net worth $12 million who is an engineer and a former astronaut. He is one of the United States Air Force in the military.
All over the world, he is known as the second astronaut to step on the Moon along with late astronauts Neil Armstrong. He was the lunar module pilot on Apollo11, during the first manned lunar landing in history.
Take a look at some information about Aldrin's career journey and source of income.
Luxurious House
Aldrine lives in 3,143 square feet house in Westwood, Los Angeles, California which contains three bedrooms and 3 and a half bathrooms. He kept his house on sale for $3.3 million, but the HOA dues, bump the price up a bit more.
His house also features an open-plan common space, two sizable balconies, floor-to-ceiling glass, a master bedroom with a large walk-in-closet, a pool, a recreation area, and 24-hour onsite staff.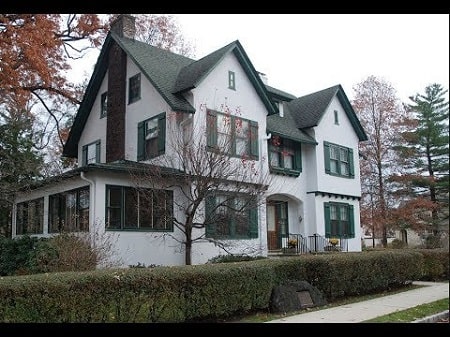 How He Got Selected on NASA?
The second astronauts walking on the moon, Buzz Aldrin joined in the year 1962 but he was rejected because he was not testing pilot. After one year, on May 15, 1963, NASA announced that Aldrin got selected with his full requirement and had test pilot or 1,000 hours of flying time in jet aircraft. And also, he had over 2,500 hours of flying time including 2,200 hours in jets.
On 18th October 1963, he became one of the fourteen members of NASA's Astronauts Group 3. Professionally, he garnered the name "Dr. Rendezvous" because he was the first astronauts with a doctoral degree and also expertise in orbital mechanics.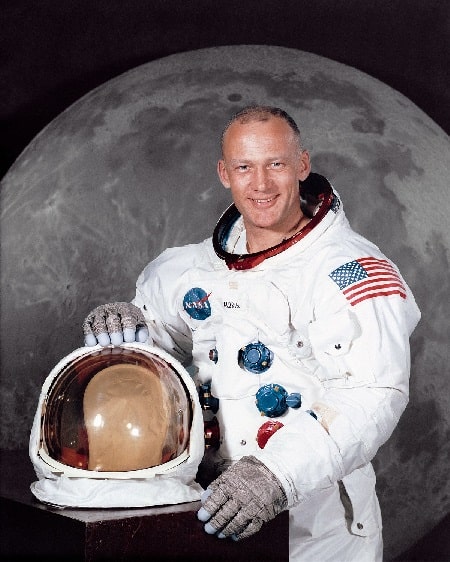 Salary As An Astronut
As keeping a risked of his life in the name of space exploration. According to the Boston Herald, the salary of Aldrin was around $18,623 which includes base pay, quarter, subsistence allowance, and flight pay. But in 2019, his salary increased and became $129,598.
Involvement in Space Missions
Gemini Program
Buzz was selected for Gemini 10 as the backup crew where he was a pilot along with Jom Lovell, a commander. On 28th February 1966, he and his colleague served as prime crew for 'Gemini 12'.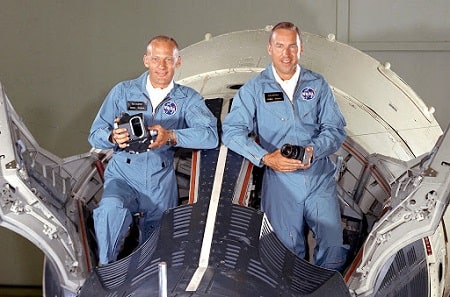 'Gemini 12' was launched from Launch Complex 19 on November 11, 1966, that carried 14 scientific, medical, and technological experiments.
The main objective behind launching was to fly the spacecraft and target vehicle together using gravity-gradient stabilization, performing docked maneuvers using the Agena propulsion system to change orbit, conduct a tethered station-keeping exercise, and three EVA's, and demonstrated an automatic reentry.
Apollo Program
On 20th November 1967, he was assigned to an Apollo crew along with Neil Armstrong as Commander, Lovell as Command Module Pilot (CMP), and he as Lunar Module Pilot (LMP). They worked in Apollo 8,9 and 10.
Aldrin and Armstrong were two astronauts who were launched on Apollo 11. It was launched by a Saturn V rocket, Apollo 11 lifted off from Launch Complex 39 at the Kennedy Space Center on July 16, 1969, at 13:32:00 UTC and entered Earth orbit twelve minutes later. They passed behind the Moon and fired its service propulsion engine to enter lunar orbit on July 19, 1969.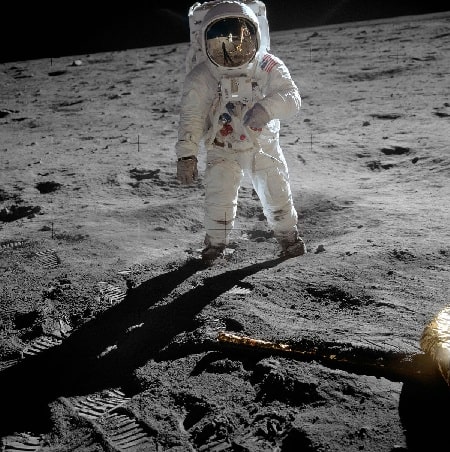 On 21 July, Armstrong set foot on the Moon and nineteen minutes after Armstrong first touched the surfaces. Then Neil and Buzz became the first and second human beings to reached and stepped on the Moon surface. Their success was visible by live in 33 countries with approximately 25 million viewers in the United States.
Retirement From His Post
After service for 21 years, Aldrin decided to retire on March 1, 1972. At that time Air Forces budget being cut and also the interest in space was diminished which led him to leave.
Air Force Polit
Before making a career in NASA, Aldrin was in the military. He joined United States Air Force which became a separate service in 1947. He was a second lieutenant and had done basic training in T-6 Texans at Barstow Immelmann turn in T-28 Trojan.
Later, he went to Nellis Air Force Base in Las Vegan, there he learned to fly the aircraft of F -80 Shooting Star and the F -86 Sabre. He then participated in 66 Combat Mission where he flew F -86 Sabre to attract in Korea and shot two MiG -15 aircraft.
Again, he was involved in victory with North Korea, he was a member of 39th Fighter-Interceptor Squadron. For his outstanding service in Korea, he was honored by two Distinguished Flying Crosses and three Air Medals.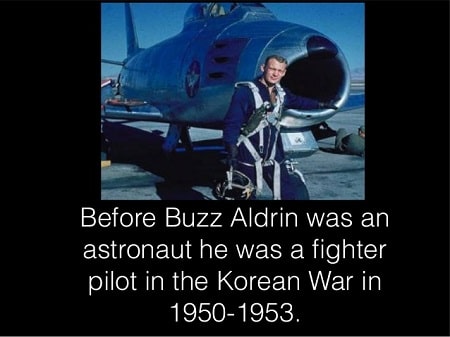 Buzz got a doctorate and got offered to join the Gemini Target Office of the Air Forces Space System Divison. He worked with the Lockheed Aircraft Corporation that led him to be a member of NASA's Project Gemini. After that, he was shifted to Space System Division's field office at NASA's Manned Spacecraft Center where he did Departement of Defense experiments in Project Gemini flights.
As An Author
Besides being an astronaut, he is a well-known writer/author of several books. He has written two autobiographies; 'Return to Earth' (1973) and 'Magnificent Desolation: The Long Journey Home from the Moon' (2009).
Similarly, he also has written a book on the historical journey of the Apollo program called 'Men from Earth' (1989) along with Malcolm McConnell. He is a writer of 'Mission to Mars: My Vision for Spane Exploration' (2013) and 'No Dream Is Too High: Life Lessons from a Man Who Walked on the Moon' (2016).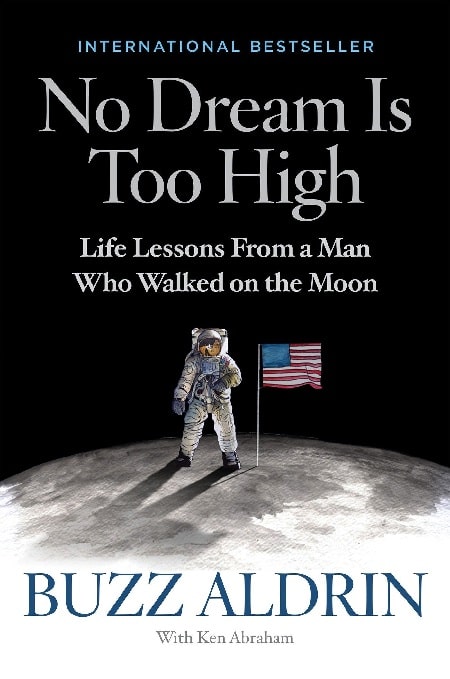 Visit Glamour Path for more facts about celebrity net worth.
-->