Get to Know Brittany Furlan – Viner and Tommy Lee's Wife Since 2019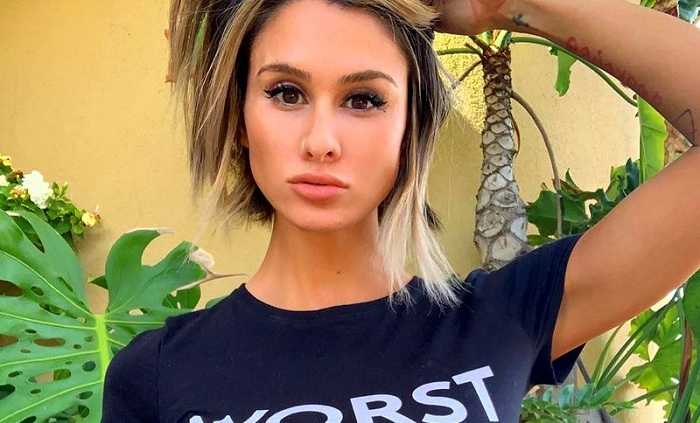 Mötley Crüe's drummer Tommy Lee has one of the funniest Viner wife; Just like Lee, Brittany Furlan is also a multi-talented actress, model, YouTube comedian, and Viner.
She and her husband Lee have 24 years of the age difference, yet, they are the center of all media attention for their expensive holidays, huge earnings, and controversial life.
So, let's take a look at some rarely talked facts about Tommy Lee's lawfully wedded wife Furlan, here!
What's Her Net Worth?
Brittany Furlan is a social media super-star, a ramp model, an actress and a successful YouTuber, so fer her multi-functional career, she is able to generate over $300 to $500 thousand per year. Likewise, her current net worth is reportedly around $700 thousand which will hit the million dollar mark in near future.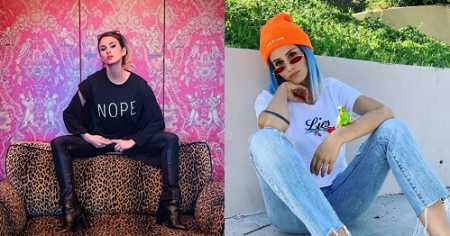 Likewise, her drummer husband is one of the most successful american drummers who is worth $70 million, which means the power couple is one of the richest pair in Hollywood, for sure.
Emmy Drama
Furlan is the wife of a notorious Drummer who's life has been a roller coaster ride, and Brittany herself has made a controversy when she was presenting the Emmys; On 2014s Emmy award, she quoted that she would have to resist herself from raping some male celebrities, which was bashed by the acting community, which means that the outspoken joke did backfired on her in such a huge stage!
Age Difference With Husband
Another controversy surrounded Lee and Furlan when they were not publicly dating. Back in 2014, the pair had a vacation in Italy, where she and Tommy were first seen getting cozier, to which musical community reacted that she was after Tommy's money, and there was no such thing as romance developing between them.
This precisely, had to do with the 24 years of age gap between the pair, as Brittany was born on September 5, 1986, where as her husband Lee was born on October 3, 1962.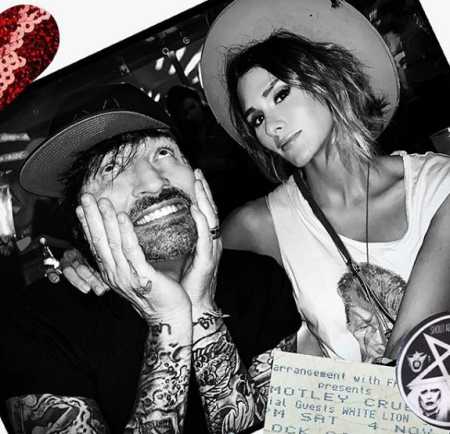 To contradiction, the pair came out strong and got married. So, on the next stop, let's take a look at their union, shall we?
Husband - Tommy Lee
Tommy Lee and Brittany Furlan secretly got married on February 14, 2019, but they kept the news consealed up until November of 2019. On November 19, 2019, Furlan shared a romantic wedding pictures and announced that she and her boyfriend were now a married couple with a lovely caption that read: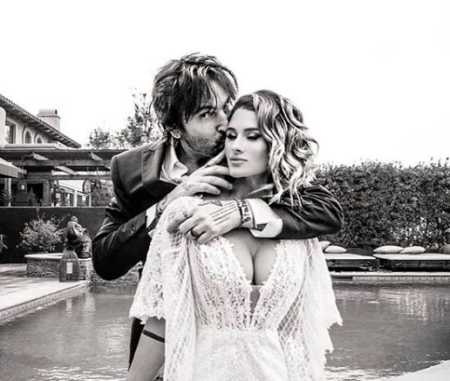 OK- We were going to keep these private but after 20,000 dms asking for wedding pics, we decided to share our special day with you. Thank you for all the love and sweet messages 🖤
After Wedding, she has been active on Fashion modeling, and Podcast, but she isn't much active on YouTube, for now. On that note let's measure Brittany Furlan's fame on social media; next stop social media fame!
Social Presence
Brittany Furlan was once unsure if her acting life would go as she expected, hence she took on fashion designing and social media as her back up plan over acting. She is now basically enjoying life as Tommy Lee's wife and is mostly famous, solely for that reason. But, she is super huge on social platforms. Her Gram has over 2.5 million followers; likewise her YouTube now has 344K subscribers but she hasn't been as active there, lately.
She was huge on Vine and her vine compilation videos still have millions of views over it, and she is happy in her personal life, that's probably the only reason she hasn't made any copyright claims as of yet!
Likewise, she is now into TikTok, which is somehow like Vine and has almost a million subscribers on her TikTok account, which proves she is the queen of impersonation.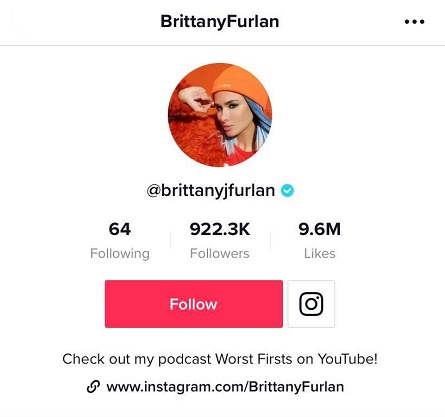 Small Role In The Dirt
Likewise, she also had a small role in The Dirt, which was based on Mötley Crüe's band history; she played the role of a "Biker Chick", in the movie and reportedly had creative efforts on production design of the 2019's smash hit movie, The Dirt.
She also had MGK on her Podcast
After, the movie The Dirt was released, the whole crew did numerous media tours and Brittany Furlan, who along with her friends run a Podcast "The Worst First". She featured The Dirt's actors on her podcast, and now, she is reportedly close to Casie Baker's dad Machine Gun Kelly (MGK), who played her husband's role in the movie.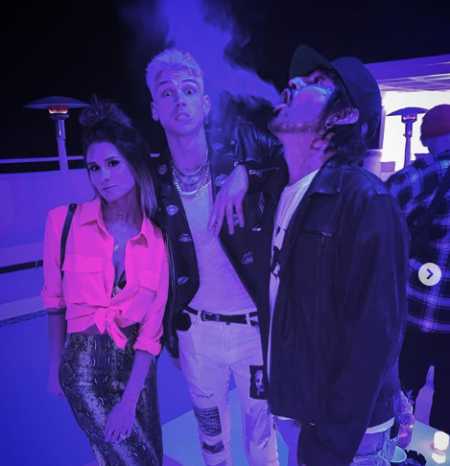 She And Lee Visited Italy, But Didn't Catch Covid-19
The pair keep visiting exotic locations and their life pretty-much is a big holiday, in 2020, the pair were spotted hitting Mexican beaches and attending glamorous parties in Italy, but luckily, they are safe from the Covid-19 outbreak, which was seen in Tom Hanks and his wife after returning from Italy.
So, these were a few facts that you might have missed out on Brittany Furlan, for more, keep up with Glamourpath!
-->