Brad Pitt's Plastic Surgeries and Tattoos With Meaning
Published Tue Sep 17 2019 By DGM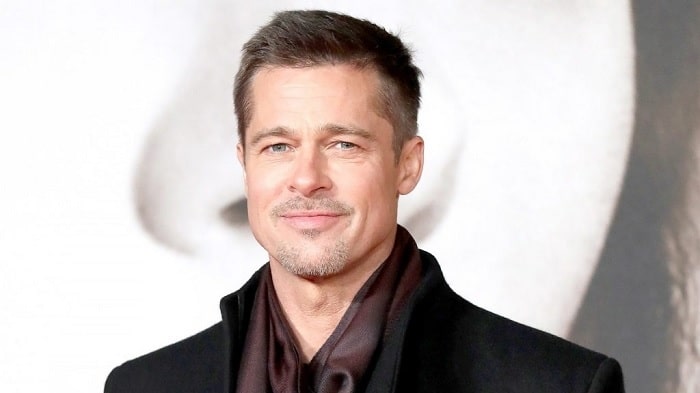 The famous American actor and the 'World War Z' star Brad Pitt has been linked with rumors of going under the knife and having cosmetic surgeries done in his face. He has inked tattoos counting up to 10 and even more in his body.
Pitt hasn't spoken much about his surgery rumors which show his reluctance to talk about surgeries. Here are the surgeries that he is rumored to have and the tattoos he has in his body:
Brad Pitt Before & After
Brad who holds an estimated net worth of $300 million dollars has transformed magically throughout his filming career. Take a look at his picture from past and present: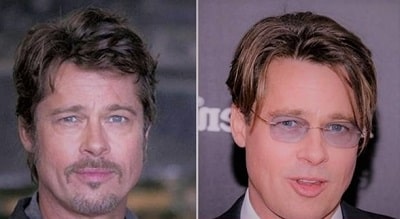 From the above picture, we can clearly see that Pitt has some obvious changes in his face hinting us towards plastic surgeries.
Eyelids Surgery
Following the divorce with Angelina Jolie, the prominent star has been rumored to have had surgery on his eyelids. The droppy eyelids which he used to have previously were no longer there and the shady bags under his eyes were also gone.
The famous plastic surgeon Dr. Manish Shah said that the actor had both of his eyelids done via Blepharoplasty.
Botox
The 55 years old actor is also speculated to have applied Botox on his face in order to reduce the aging symptoms like wrinkles and folds which he might have experienced as he has already crossed fifty-five years of his life.
The need to be in the industry and pressure as a celebrity might have compelled him in getting the surgical injections on his face. Whether if he did or didn't apply Botox, he still has a charming face to die for.
Nose Job
Pitt is also rumored to have his nose done through rhinoplasty surgery as his slim and narrow nose changed into a bit broader and raised nose. Here is a picture of him before and after: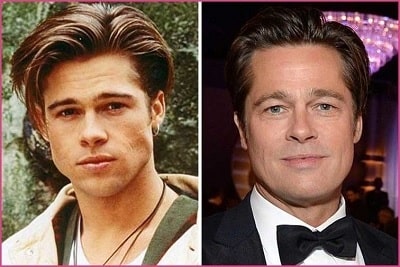 Tattoos & Their Meaning
Jennifer Aniston's ex-spouse has inked at least ten tattoos visible on his body which are given below: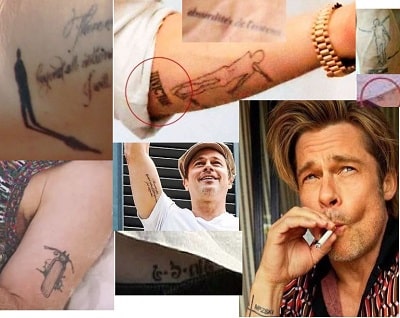 Silhouette Tattoo
On the right biceps of Brad Pitt, the dashing star has a silhouette of a man walking and his shadow inked which is considered to symbolize walking alone in this selfish world.
Invictus
The world 'Invictus' which means 'unconquered' has been inked on the lower left hand of the 'Once Upon A Time In Hollywood' star. The word is basically a reference to the poem of William Ernest Henley.
Tattoo on Forearm
A thin-elongated cross which consists of the initials of Pitt's closed ones is inked on his right forearm. We can see the initials represent AMPZSKV where A is inked separate than the others as it stands for his ex-wife Angelina Jolie and other initials stand for his kids; M for Maddox, P for Pax, Z for Zahara, S for Shiloh, K for Knox, and V for Vivienne.
Iceman on Forearm
The outline of Ötzi the Iceman, who is also as Similaun Man and Frozen Fritz has been inked on the left forearm of the actor.
Sanskrit Writing on Lower Back
Brad also has a Sanskrit writing inked on his lower back which matches to the tattoo on Angelina Jolie's body.
Writing on Left Arm
The 'Fight Club' star has a writing inked on his left arm which reads 'Absurdities de l' existence'. It is actually a French writing which translates to 'Life is Absurd.'
Scribbles Done By Angelina
When the eminent star was dating his 'Mr. & Mrs. Smith' co-star or his ex-wife Angelina Jolie, he got his lower back inked with scribbles done by Jolie in a random night.
Date of Birth of Angelina
Pitt has also inked the date of birth of his ex-wife Angelina which is inked in Khmer, the official language of Cambodia. The numbers translates to 6-4-75 which is exactly the DOB of the beautiful actress.
Writing on Right Biceps
Pitt has a writing inked on the lower part of his right biceps which is a modified part of a famous poem written by Rumi.
The writing reads
'There exists a field, beyond all notions of right and wrong. I will meet you there.'
which he had before he was married to Jolie.
Motorbike on Left Upper Arm
There is a drawing of a motorbike inked on the upper arm of the left hand of the handsome actor. The bike appears to some kind of Royal Enfield's bike, most probably, bullet bike. The tattoo represents his love and dedication towards biking.
There are some other tattoos inked on Brad's body but he has been very secretive about them and doesn't show them at all.
Visit Glamour Path for more updates about celebrity plastic surgeries and tattoos.
-->