Blac Chyna Admits Plastic Surgery and 16 Tattoos
Published Wed Oct 16 2019 By DGM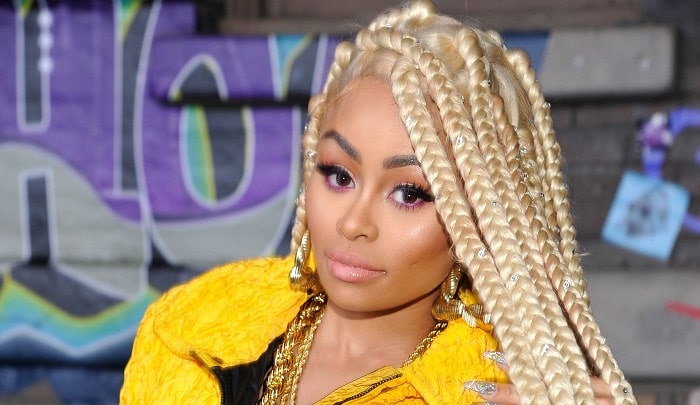 The American entrepreneur and model, Angela Renée White, who is professionally recognized as Blac Chyna has gone under the knife and had three different plastic surgeries done to enhance her body. She has also inked a total of 16 tattoos on her body with each holding a different meaning.
White has openly admitted about having the job done to her body and doesn't feel regret over any of them. Here is everything you need to know about her surgeries and tattoos along with their appropriate meaning:
Blac Chyna Before & After
Blac Chyna has transformed a lot throughout her career as a model as she has been familiar with cosmetic procedures a lot. Here is a picture which will provide a small clue on how she was before and how she is at the present: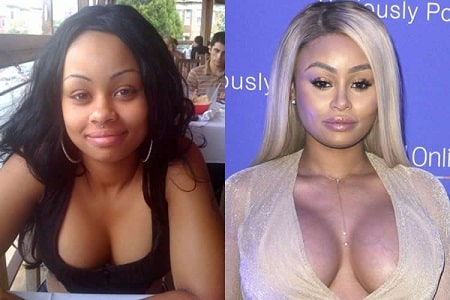 As you can very well see in the picture given above, there have been some amazing alterations on Blac's body specially her breasts.
Four Breasts Surgeries
The mother of Dream Renée Kardashian and King Cairo Stevenson, Blac Chyna has opened up that she has already done four breast surgeries till date. She stated that she did them for both increasing and decreasing her breasts's size.
First, Blac did the surgery to increase them but as they grew humongous large, she chose to decrease their size. After that she again opted for the surgery in need of a small increment in breasts size but ended up getting puffy sized so she had to decrease them at the fourth time. At current, she has a perfect pair of attractive breasts.
Liposuction
The Washington born model Chyna has also revealed that she also has had a liposuction done to remove the excessive fat from her buttocks as they were going out of control. She had to reduce the fat from her buttocks as she was gaining a lot at that part. Hence, with the help of a surgeon's knife, it became possible for her.
Buttocks Surgeries
Blac Chyna, who has a net worth of $4 million, also had surgeries done on her buttocks a couple of times. At first, she had a Buttock augmentation surgery to enhance them and achieve a larger pair of buttocks. But after she gave birth to her daughter, Dream, her buttocks went totally out of shape.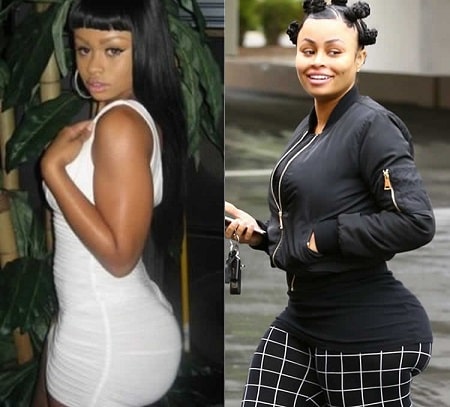 As it was getting difficult for Chyna to maintain her body at her post-pregnancy days, she went under the knife and reduced them by a huge margin. So far, she doesn't regret any of her surgeries at all.
Tattoos & Their Meaning
Talking about tattoos, Blac Chyna has inked a total of 16 incredible tattoos on her body which are given below along with their meaning:
T-Rawww on Left Hip
Angle previously used to have Tyga, her ex-fiance's nickname 'T-Rawww' inked on her left hip. After they broke up, she covered the tattoo in January 2015 with a large floral design. However, the hint of the writing can be still seen as a dark area in the leaves of the flower.
'BC' on Left Ankle
On the inner side of Blac Chyna's ankle, Renee has alphabets 'BC' inked which stands for her initials for Blac Chyna.

Watermelon on Belly
Chyna also used to have a slice of watermelon with a small piece eaten on her left belly. She said that she got the tattoo because she is a beaten. the tattoo was later covered up along with the T-Rawww tattoo by the floral design.
'Jay' on Inner Left Elbow
On the inner left elbow, Chyna has the name Jay inked with red ink and a small heart. She had the tattoo when she was dating her ex-boyfriend, Almighty Jay.
Chrysanthemum Flower Along With Swirls on Lower Back
The chrysanthemum flower inked on the lower back of Blac covered her previous tattoos that used to be on her back. The tattoo was inked by tattoo artist, Paul Nguyen who took the help of the previous design that existed in her back.
'Pussy' on Right Foot
There is the word 'Pussy' inked on the outside of the model's right foot. She inked the tattoo when she used to work as a stripper in her past. The tattoo was to honor women involved in the profession and motivate women empowerment.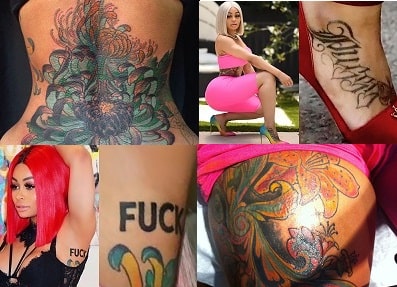 Lilies and Colorful Swirls on Right Thigh
Rob Kardashian's ex-partner also has a floral design inked on her right thigh which consists of some beautiful lily flowers along with some colorful lilies. The tattoo stretches up to her right hip from her thigh.
'Fu*k' Below Left Armpit
There is a word 'Fu*k' inked on the left side of Chyna's rib cage, below her left armpit. Though she hasn't stated why she actually got the tattoo, it appears to be representing a negative past or meaning.
Chrysanthemum Flower on Left Rib Cage
There is an orange and blue colored chrysanthemum flower inked on the left rib cage of the beautiful entrepreneur. Located just below the previous tattoo, it symbolizes joy, love, and peace.
'King' and 'Dream' on the Sides of Hands
There are Blac's kids' names; 'King' and 'Dream' inked on the side of her both hands. The name 'Dream' also covers up the previous tattoo of 'Future' which Chyna had for her ex-boyfriend, Future.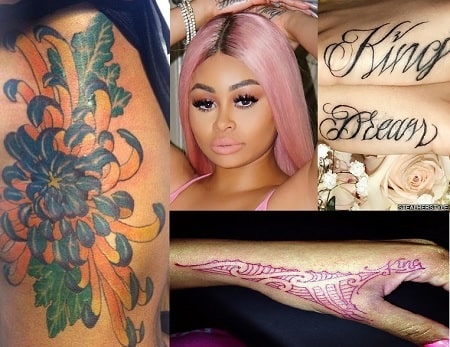 Butterfly on Right Foot
As the 31 years old model loves butterflies, she has inked a small butterfly on the outside of her right foot.
Tribal Design and Name on the Back of Left Hand
There is a beautiful red tribal design inked on the back of Chyna along with the name 'King' where King refers to her first child. She inked the tattoo back in 2012.
'Stevenson' on Right Inner Elbow
Stevenson which is the surname of Angela's son King and his father Tyga, is inked on the inner elbow of her right hand.
Floral Tattoo on Left Leg
A floral tattoo which consists of a long vine of flowers of different colors has been on the left leg of the American beauty. The tattoo starts from her left calf, covering all her lower leg and stops at her foot.

Floral Design on Body's Right Side
On the right side of Blac's body, there is a huge floral tattoo inked which includes of red and blue lilies. The tattoo also sports a Monarch butterfly because there can't be flowers where butterflies aren't around.
Red Tribal Design on the Back of Right Hand
A beautiful tribal design is inked in red on Blac's right hand and wrist. The tattoo was inked in order to cover up the old tattoo of her former partner, Tyga's name.
Follow Glamour Path for more latest news about celebrity surgeries and tattoos.
-->