Adizia Benson aka Bambi Benson's Plastic Surgeries and Tattoos
Published Tue Aug 27 2019 By DGM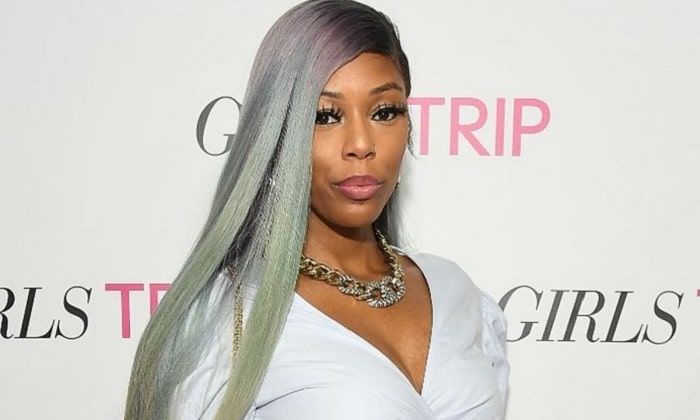 The 'Love & Hip Hop: Atlanta (LHHATL)' Adizia Benson aka Bambi has gone under the knife and had four plastic surgeries done to enhance her body. She has also inked a number of big tattoos, at least five on her body.
Bambi has somehow admitted having the cosmetic surgeries done to her body. Here is everything you need to know about her plastic surgeries and tattoos:
Bambi Benson Before & After
The gorgeous artist Bambi Benson has transformed a lot when it comes to her body throughout these years. From her top to bottom, every part seem to have changed a lot whether it be her breasts or buttocks. Have a look at the picture below and know the difference below: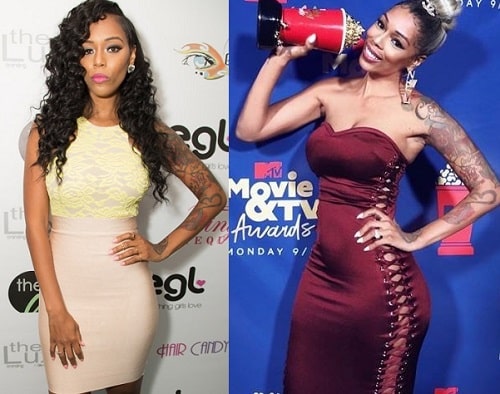 Adizia Bambi Benson before (left) and after (right).
As you can see, there have definitely been some changes on Bambi's body which are of course the outcome of the plastic procedure that she underwent.
Breast Implants of Bambi Benson
The 33 years old rapper Benson has had a breast implants surgery that helped her to achieve bigger sized breasts as compared to how she had them in the past. She has actually been flaunting her sexy body on her Instagram which she got from her post-surgery.
If you took a close look at the picture given above, you surely had the idea that there are some noticeable changes on her bust. Her breasts have had a raised and bigger appearance in the recent days which is clearly the result of her surgery.
Buttocks Implants
The LAHH star Bambi also had implants on her buttocks and made them look more appealing and gorgeous than before. Her rear end have amazingly started appearing totally bigger and attracting than ever.
Thanks to the worthy augmentation that she had on her buttocks. Her buttocks are one of the most amazing buttocks that any rapper these days have. She definitely did the correct decision by having her buttocks implanted.
Dental Surgery
Dental Surgery is something that the reality television actress has been very familiar with. Yes, it is something new for her because Bambi Benson already has done two dental surgeries till date. Because her teeth and gum were a bit dis-balanced, she arranged with the help of a dental surgeon.
The second time Benson had her teeth modified is not so long back. She recently had her teeth fixed through surgery. She even showed her new flawless smile on her Instagram video where she was just smiling and trying to every part of the teeth that she managed to renovate.
Tattoos & Their Meaning
Adizia Benson has inked a lot of tattoos on her body which are barely countable because majority of them are mixed or intersecting each other. They are as follows: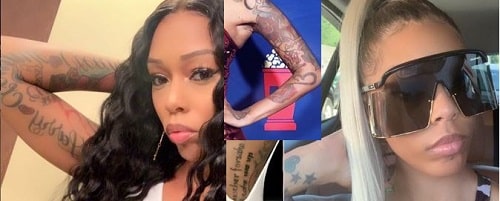 Picture Above - All the Tattoos of Bambi Benson.
Tattoos on Left Hand
From a series of tattoos that the eminent star has, Benson has a lot of designs inked on her left hand. From top to bottom, there are several drawings on her hand.
She has a writing Boo written on the back of her hand along with a beautiful design of something. The upper part of her left hand has a big floral design, probably rose flower and it also has some kind of writing in it.
Writing on Left Arm
Lil Scrappy's wife has some kind of writing inked on her left arm along with some love and flower drawings. The writing probably most be someone' name or some kind of proverb or saying.
Star on Right Leg
The reality TV personality has a small star drawn on the back of her right leg which symbolizes spirituality and truth.
Floral Design on Back
Breland's mamma Bambi has inked a beautiful floral design on the left side of her back. It connects to the tattoos that she has on her left hand. The tattoo also has some kind of writing that ends up below her left breasts.
Check Glamour Path for more information about celebrity plastic surgeries and tattoos.
-->