Get to Know Audrey Caroline McGraw - Faith Hill's Daughter With Husband Tim McGraw
Published Wed Dec 25 2019 By DGM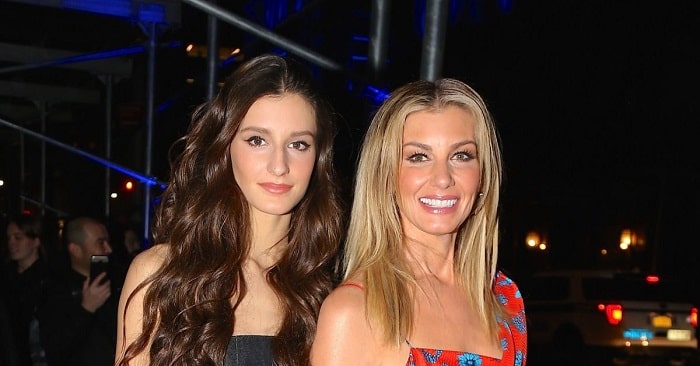 Audrey Caroline McGraw is a celebrity kid and the daughter of the famous American singer and record producer, Audrey Faith McGraw aka Faith Hill. She was born on the 6th of December, 2001 Faith's marriage with her husband, fellow singer and actor Tim McGraw.
The name 'Audrey' is a girl's name derived from Old English literature which means noble strength. As for the name 'Caroline', it is a feminine name according to French origin which translates to 'free person'. Here are some facts about her:
How Much Are Her Parents' Worth?
Audrey comes from a very rich celebrity couple of musicians who have had huge success in their professions. Her father, Tim whose full name is Samuel Timothy McGraw, holds a whopping net worth of $85 million from his fruitful career in music and film industry. Talking about her mother, Faith, she has an estimated fortune of $80 million which she amassed from her successful career as a singer and record producer.
Parents' Relationship
Audrey Caroline McGraw's parents have been together for over two decades now as they walked down the aisle back in October 6, 1996. The two met after Faith's divorce with her former husband Daniel Hill was finalized.
From their marriage of 23 years, the couple have given birth to three daughters. The two singers have been holding onto their marital relationship very strongly from the day of their marriage. They are very often seen with all three daughters together attending parties and events.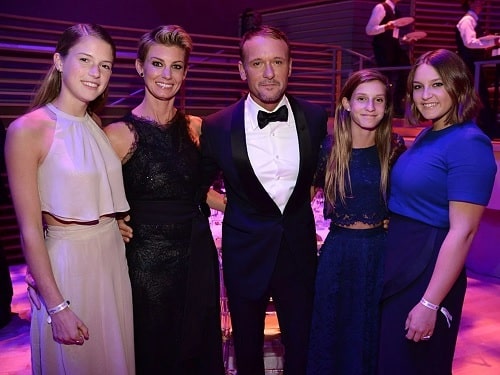 Elder Siblings - Gracie & Maggie
Audrey is the younger of the three daughters of her parents which means she has two elder siblings. Gracie McGraw is her oldest sibling born on May 5, 1997 and Maggie Elizabeth McGraw is her second oldest sibling born on August 12, 1998. Both of them have exceptionally beautiful like their mother and Gracie has even established herself as a singer just like her parents.
Is Named After Her Mamma
You might have already noticed that Audrey is named after her mamma as her carries the name 'Audrey' which is of her mamma i.e. Audrey Faith McGraw. Among the three children of her parents, she is the privileged one to carry the name of her mother which means a lot for her.
Was Born 7 & Half Weeks Early
Yes, you read that right! Audrey was born seven and half weeks early of the expected date. After she was born, her parents spent days spent praying and about two and stayed every day of the two and half weeks in the Baptist Hospital trying to make her health condition stable which eventually worked. She is now a healthy teenager who is studying in high school.
Parents Took it to Their Instagram to Wish Her on Her 18th Birthday
On the 18th Birthday of Audrey Caroline McGraw this year i.e. December 06, both of her parents took to it their Instagram accounts to wish her a happiest birthday. Both Tim and Faith posted adorable videos of their youngest daughter singing when she was young and even cuter than today. Both of the singers captioned the videos with the sweetest words about their princess and how her birth changed their lives in a lovely way. The videos were loved and got showered by lovely comments their followers.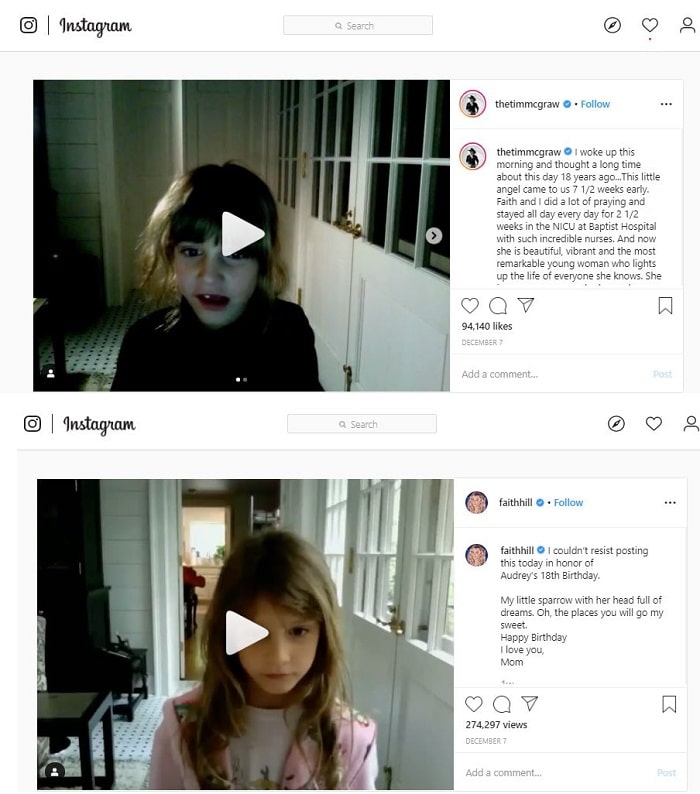 Has an Instagram Account
Just like her parents, Audrey also has an Instagram account which goes by the name @audreymcgraw. She has been able to achieve over 5,600 followers on her account and has posted 75 posts up to now. She has uploaded some of the best pictures and videos of her through which we can clearly say that she has grown up to become a very gorgeous teenager.
Is a Good Singer
Audrey Caroline McGraw is also very good at singing just like her singer parents. She took on both of her parents for her singing skills and her voice is surely mesmerizing like them. If you take a look at her Instagram account, you can see some videos of her singing alongside her friend who plays ukulele.
By listening to her songs, we can say one thing for sure that she will turn out to be a great singer if pursues singing as her career and her parents will also guide her for sure.
Check out Glamour Path for more daily and interesting updates about other celebrities's babies.
-->