Asahd Khaled Net Worth - A Toddler Worth $500 Thousand; Know DJ Khaled & Nicole Tuck's Son
Published Fri Feb 07 2020 By DGM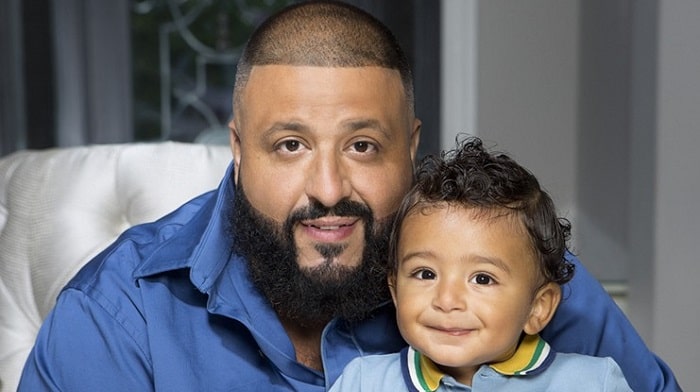 Asahd Tuck Khaled, the dearest son of the famous American DJ, songwriter, and record executive DJ Khaled, holds an estimated net worth of $500,000 and is one of the richest toddlers we know.
The toddler's fortune came from a music album 'Grateful' and the hit song 'Shining'. After, Khaled entitled his record label to Asahd, he is officially a executive producer in his dad's production house. His expensive toys, cars, and clothing accessories, along with many merch-endorsements contribute to his huge fortune.
Here are some facts about the child's immense wealth:
Wealthy Parents
The rich child comes from a very wealthy couple who are worth millions. His father, Khaled has a gorgeous fortune of $67 million following his successful music career. Moreover, his mother, Nicole Tuck, is also worth $6 million earned as a businessperson.
"Fleet Of Lavish Toy Cars" You Name It, He's Got It!
The firstborn of Khaled Mohamed Khaled rides expensive custom mini cars from brands like Mercedes and Ferrari.
He got his first car when he was just eleven months old and the car was not a usual toy car but It was a customized miniature Rolls-Royce in blue and white color.
The mini beast features an impressive stereo system and all-leather built interiors. Not to miss, it also has a customized plate that has his name 'Asahd' written over it.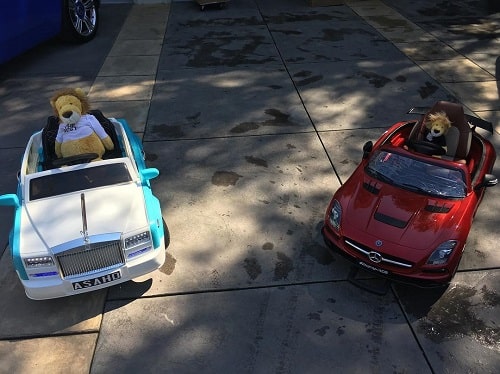 Besides Rolls-Royce, he also has a red miniature Mercedes as his secondary ride which he rides in the yard of his parents' huge mansion.
The car is also an expensive one as it also features a customized 'Asahd' plate along with all the features a child would want in his dream car.
Gifted a $100,000 Diamond-Crafted Watch by His Dad
On the first birthday of Asahd, his father gifted him an expensive watch worth $100,000. DJ Khaled hosted an extravagant birthday by renting out a Miami club where he gifted the 11.5 carats of diamonds crafted watch from Franck Muller, a famous luxury watch brand.
That wasn't just it, the watch also featured Asahd's name and birth-date on the back of it.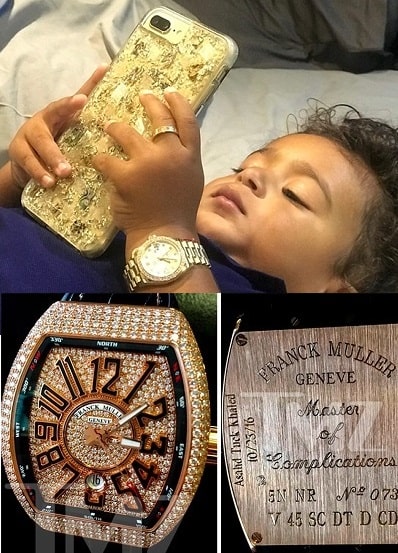 In May 2018, Asahd Tuck Khaled got a new Rolex watch bought by his musician dad.
His father uploaded a video on his Instagram where he is seen entering a Rolex store and buying his son the $34,000 watch. Just like the Franck Muller watch he was gifted previously, his Rolex watch also is engraved with diamonds.
Loves Wearing Expensive Sneakers
The multimillionaire's son has been gathering a massive collection of sneakers shoes before he even learned to walk. Khaled has been collecting footwear from expensive brands like Yeezy, Gucci, and Nike. Trust us, he has amassed his sneakers all in one room like books in a library.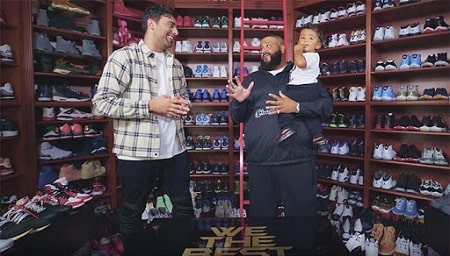 The 'I'm the One' producer showcased his son's massive sneaker collection in an interview with Complex Magazine.
Collaborated with Nike
Back in 2018, Asadh collaborated with Jordan, a famous sports gear and accessories manufacturing brand from Nike and launched the Jordan Asadh Collection.
With the deal, he became the first child ever to team up with the brand and launch a limited Jordan Kids Collab Apparel.
The Jordan X Asahd apparel collection features a number of gorgeous hoodies, sports jerseys, backpack, pants, and shorts among others. His merchandise can be bought from the website 'Foot Locker' at affordable prices.
Wears Custom Tuxedos
Asahd Khaled wears custom tuxedos whenever he attends any parties or events with his dad.
Back in 2018, he wore a matching red crushed velvet tuxedo along with his dad at the Grammy Awards. Previously, fans also saw the young star wearing a matching blue Gucci Tuxedo with hip-hop artist, Gucci Mane at the 2017 BET Awards.
Stay tuned to Glamour Path for more daily and latest updates about other celebrities' net worth.
-->