Ariel Winter Plastic Surgery and Body Transformation – Before and After
Published Wed Jul 24 2019 By DGM
The 'Modern Family' actress Ariel Winter has done a breast reduction surgery and also been alleged to have done other plastic surgeries like Lip Fillers and Botox Injections.
Ariel has admitted of having her breasts reduced but has denied all the rumors of going under the knife and getting the job done.
Ariel Winter Before and After
Last January, the 21 years old (as of July 2019) actress was alleged on Instagram by her followers to have multiple plastic surgeries when she uploaded three pictures in which she looked totally different from she was before. And the fans seem partially correct somehow because she appeared a lot different in those pictures. Take a look at the picture below and check for yourselves: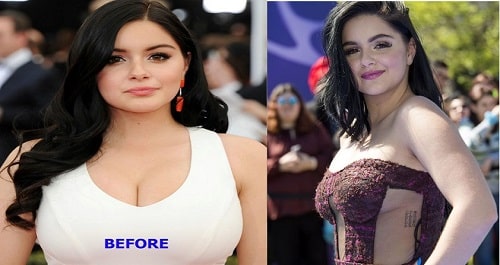 As you can see in the picture, Ariel's whole body seems so different from the past as if it has been transformed through plastic surgery procedure. Her whole face looks completely unique in the right picture if we compare it with the left one. This is a strong insinuation that she may have had plastic surgeries to modify her facial traits.
Here is a piece of information of her plastic surgery and their rumors:
Breast Reduction Surgery
The beautiful actress Ariel has openly admitted to have gone under the knife and reduced her breasts. She said that she reduced them back in 2015 when she was just 17 years because they were causing her a lot of pain.
Winter also added that most of the women in her family has had their breasts reduced so, it wouldn't be strange if she also chose to do so. Hence, she reduced her breasts size and said that she feels completely relived and much better than before after reducing her breasts.
Lip Fillers Rumor
Ariel Winter who holds a whopping net worth of $12 million has been alleged by her fans that she has had used lip fillers to enhance the size of her lips. This rumors emerged when she uploaded her pictures on Instagram where her lips appeared boosted and thickened which is thought to be a fine work of lip injections.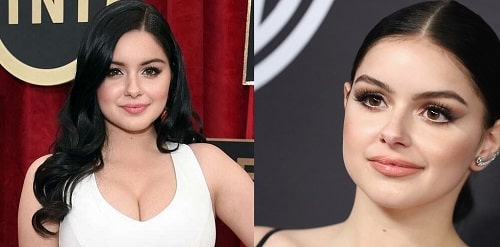 Proving all the allegations wrong, the eminent actress said that her face is plastic free and the lips appeared big as a result of her lipstick. But is the lipstick supposed to really increase a person's lip size? Though it can help them appear bigger if applied exceeding the lip area, it isn't really the fact that lipsticks work as lip fillers, right?
Cheek Fillers Rumors
Another speculation circulated that the partner of Levi Meaden also boosted her cheeks via cheek fillers. Since her cheeks seemed so juicy and bouncy, most people started thinking that she indeed used the fillers on her cheeks to get a fine and toned finish.
Winter's cheek bones appear more visible at present than compared to her past which critics insinuated to a masterpiece of cosmetic injections. She claims that it happened as she lost her weight through medication which was totally shocking for her. It can be the actual cause because we know that she was very overweight in the past in comparison to present days.
Visit Glamour Path for more facts regarding Celebrity Plastic Surgery.