Ariana Grande's All Fourty-Four Tattoos Revealed
Published Mon Sep 09 2019 By DGM
The 'break up with your girlfriend, i'm bored' singer Ariana Grande has inked a total of 44 tattoos (as we know) on her body with each of them holding a different meaning.
Ariana has inked those tattoos for specific reasons. Here are all the tattoos that she has with their meaning:
Small Heart on Toe
It was back in 2012 when the beautiful pop singer had her first tattoo which was of a small heart on her right toe. She inked it in order to remember the enlightening and happy time of her life while she recorded a duet song with Sky Blue.
Crescent moon
Ariana Grande inked a crescent moon tattoo on her neck which was supposed to represent her third album 'Dangerous Woman'. The album was previously planned to be named 'Moonlight'.
Hebrew Phase on Ring Finger
On the ring finger of the right hand, the American actress has inked a Hebrew phase 'אלד' which represents 'protecting and guarding' from any sort of evil entity.
Mille Tendresse on the Back of her Neck
Two years after the heart tattoo, Ariana had a writing inked on the back of her neck which reads 'mille tendresse'. It translates to one thousand tenderness according to French literature.
Tattoo on Ring Finger
Grande who has been rumored to have a nose job has another small heart tattoo inked on the ring finger of her right hand.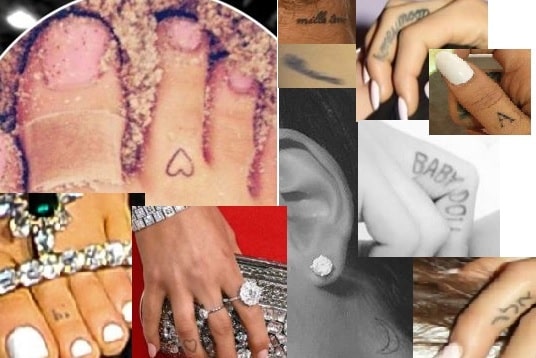 Hi on Left Toe
Ariana and her then boy-friend Ricky Alvarez together got their toes inked with the matching writing 'Hi'. He has it on the top of her index finger left toe.
Writing on Rib Cage
The word 'Bellissima' which means 'beautiful' in Italian literature is inked on the left rib cage of the 'Side to Side' singer. It is the name that her late grandfather used to call her by.
Honeymoon on Middle Finger
On the middle finger of Ariana Grande's right hand, the Florida born artist has got a writing 'Honeymoon' inked when she was on 'The Honeymoon Tour' for promotion of her album 'My Everything'.
Baby Doll on Middle Finger
This tattoo is located on the same finger of her right hand but at the opposite side. The name 'Baby Doll' was given to her by her maternal grandma.
Alphabet A on Right Thumb 10
In 2016, the R&B singer inked her right thumb with the alphabet A which is the initial of the name of her and her best friend Alexa Luria. She inked the tattoo in order to show her love for her buddy who has been together with her since they were 10 years old.
Lumos on Right Hand
When the beautiful singer was dating Pete Davidson, she got her right hand inked with the word 'Lumos' which is the spell used in Harry Potter to produce light.
H2GKMO on Right Hand
When Edward Butera's daughter was then engaged to Davidson, she and her then fiance had the writing 'H2GKMO' inked on her right hand. The phrase means 'Honest to God Knock Me Out' according to the artist herself.

Venus Symbol on Middle Finger
On the exact same day when Grande had her initial tattooed, she also had the Venus symbol inked on her middle finger of her left hand. The symbol refers to the gender symbol for female.
Undefined Writing on Left Thigh
Riri has an undefined writing inked on her left thigh which she hasn't confirmed yet.
Matching Cloud Tattoo with Pete Davidson 15
Long before the relationship of Grande and Davidson was confirmed, the couple was spotted having a cloud-shaped tattoo inked on their left hand hands.
Bee Behind the Left Ear
Ariana also inked ab bee tattoo behind her left ear in order to pay a permanent tribute to the 22 killed and dozens of injured people at one of her concerts.
She got the tattoo one year after the incident in order to commemorate the people who lost their lives at her concert.
Always on Rib Cage
The writing 'Always' has been written on the rib cage of the actress and is located near the 'Bellissima' tattoo.
Court on Left Knee
The 'Bang Bang' singer has a writing inked on her left knee which reads 'Court'. She had the ink in order to show her tribute and love for her another best friend Courtney Chipolone.
Plant on Midriff
It was back on 17th of March at 3 am when Davidson's ex-fiance inked her midriff with a plant. A leaf of the plant covers her 'Always' tat.
Japanese Writing on Elbow 20
The Japanese writing 'うたいましょう' which translates to 'let's sing' has been inked on the left elbow of Ariana Grande.
Eevee on Left Arm
The first tattoo of Grande of 2019, she has inked her favorite Pokémon Eevee on her left arm. She loved the character very much and always desired to have it as a tattoo which she did as a new year gift for herself.
561 on Left Hand Thumb
Ariana has inked 561 on her left hand thumb which is the area code of Boca Raton, Florida where she resided till the age of 14 years ago.
Japanese Writing on Palm
The beauty queen previously had a Japanese writing on her palm which reads '七 輪' and translated to Seven Rings according to the star herself. But as that translated a little bit wrong, she added an additional kanji and a heart to fix it. However, the ink still translates wrong.
Plant and Abstract Piece on Two Fingers
The eminent star has inked a plant on her pinky finger and an abstract piece on her ring finger of her left hand. The abstract art is a rectangle which covers the black heart tattoo which she had to cover Pete's name.
Plant on Left Hand 25
On the left hand where Grande previously had her REBORN tattoo, she has covered it with a plant after she called off the engagement with Pete Davidson. She had the tatoo with Pete when they were together and covered it after their separation.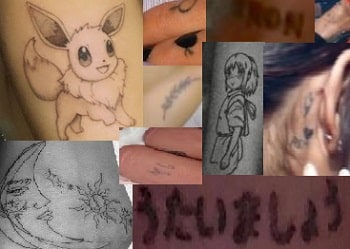 Number on Index Finger 26
Ari has a tiny number inked on the index finger of her right hand which is speculated to be the number '9 3/4'. As she is already familiar with tattoos referring to Harry Potter, it is just another on the list. The platform 9 3/4 located at King's Cross Station is the gateway to the Hogwarts Express in the Harry Potter movie.
Chihiro Tattoo on Right Hand 27
Grande has a tattoo of her favorite anime character Chihiro of 'Spirited Away' inked on her right hand. She got the ink because according to her, the character resembled a brave little girl overcoming her fear and fighting against it in this selfish world. It was inked by the professional tattoo artist Mira Mariah.
Black Heart on Left Hand 28
On the ring finger of her left hand, Ariana inked a black heart by covering her former tattoo 'Pete', her ex-fiance's name. She covered it after separating from him.
Crescent Moon, Sun and Stars on Left Hand 29
The 'Men in Black: International' star has inked a big crescent moon along with a sun and some beautiful stars on her left hand. The moon was also inked by Mariah as she traveled all the way to Grande's apartment in New York City.
Myron on Left Foot 30
Myron, which is the dog's name of late American rapper Mac Miller, has covered the 8418 tattoo on the artist's left foot, the badge number of Pete's late firefighter father who died on 9/11.
The ink which was inked in order to pay tribute to Pete's father was replaced by Mac's dog's name which he adopted in 2017 when he was dating Ariana.
Crescent Moon and Stars on Left Foot 31
Just below the Myron tat, Grande has inked a crescent moon along with some stars which represent powerful feminine overtones.
Plant on Index Finger 32
A plant tattoo has been inked on the index finger of the right hand of the millionaire who holds an amazing net worth of $100 million. This again by inked by Mariah.
Eye and V-shaped Tattoo on Left Point Finger 33
The 'Sam & Cat' star has also inked an eye along with v-shaped figures on the index finger of her left hand.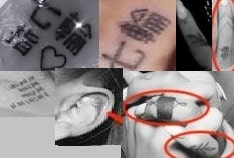 Lighting Bolt on the Back of Ear 34
A symbol of lightning bolt which represents power is inked on the back of Ariana's right ear.
Black Heart on the Back of Ear 35
Just below the bolt ink of Grande, there is a black heart inked which represents sad loss of the person having it.
Quote on Upper Back 36
The prominent songwriter has a famous quote from 'The Truman Show' inked on her upper back of left side. The quote reads 'In case I don't see ya: Good afternoon, good evening, and good night!'
R.E.M on the Back of Ear 37
Below the bolt and heart tattoo, the singer has inked 'R.E.M' which is one of the songs from her fourth album 'Sweetener'.
Angel Wing on Inside of Ear 39
An angel's wing has been on the inside of Ariana Grande's left ear which represents god's presence and expression of faith in god.
Visit Glamour Path for more Celebrity Tattoos.