Ariana Grande Nose Job and Other Surgeries – Before and After Pictures
Published Thu Jul 25 2019 By DGM
The gorgeous singer of the hit song 'Side to Side', Ariana Grande is linked with different rumors of going under the knife and having four plastic surgeries.
Ariana has denied all the rumors having any type of work done to her body. She claims that her body is plastic-free. Here are all the possible surgeries that she may have gone through:
Ariana Grande Before and After
If you have been following the Florida-born actress for a long time, you probably know that she wasn't like how she is at present. She has transformed a lot throughout these years.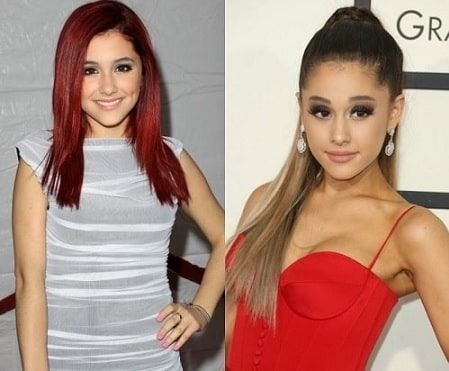 From this picture, we can easily notice some serious changes on the singer's face. Plus, there have been some noticeable alterations on the breasts' size of her. Summing it all up, there are strong chances that she may have had breast implants, lip fillers, eyebrow lifts, and rhinoplasty.
Lip Fillers
The 'Sam & Cat' star is alleged to have her lips done for a long time . And it is pretty obvious to allege because her lips have surely had some serious changes. You can easily notice from the picture given above where her lips were just normal in the past but they became more bigger, juicy and attractive. This can be highly possible through cosmetic fillers.
Breast Implants Rumors
People started accusing Pete Davidson's ex-fiancee to have breast implants when she uploaded a picture of her herself back in 2013. In the picture, her breasts seemed larger than how they were before. So, people speculated that Grande had breast implants which was not exactly the case.
The 'Bang Bang' singer uploaded a video on her Instagram criticizing and joking about all those who claimed that she had breast implants. Also, she denied the fact and said it was the Victoria Secret push-up bra she was wearing. She wore the push-up bra because she endorsed the brand and even did an advertisement for the clothing line. Hence, her breast job rumors are not likely to be true.
Nose Job (Rhinoplasty)
The $100 million Ariana Grande is also rumored to enhance her nose undergoing going a nose job or rhinoplasty. Her nose has transformed a lot if we compare her before and after pictures.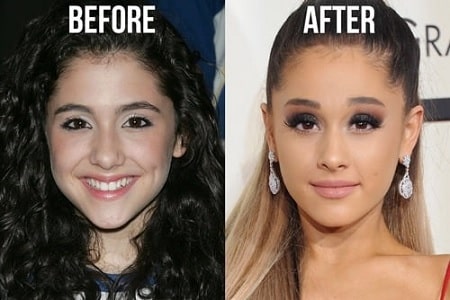 The above picture clearly exemplifies that Ariana used to have a big bump on her nose whereas the bump is gone along with it being shaped and toned perfectly at present. This could highly be the result of her highly insinuated nose job.
Eyebrows lift
The 'One Last Time' singer is strongly insinuated to have her eyebrows enhanced. And this insinuation also has a strong evidence to prove it right somehow.
The Grammy Award winner used to have eyebrows that were low on her forehead and close to her eyes. And from 2014, her eyebrows started appearing higher up on her forehead and less closer to her eyes.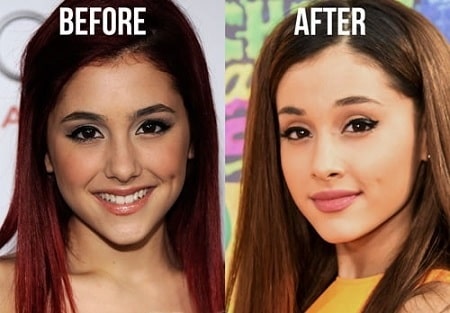 Grande's eyelids also increased and became larger as time passed by. The fat tissue and skin no longer weigh down her eyes which is probably a result of the alleged eyebrows lift surgery.
Did you know that Ariana has inked 44 tattoos?
Visit Glamour Path for more celebrity plastic surgery rumors.
-->