Ann Coulter All Relationships
Published Thu Jul 07 2022 By chanel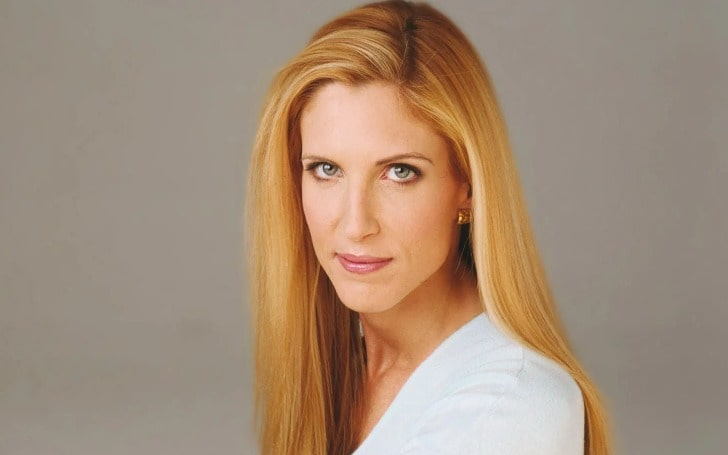 Ann Coulter is a well-known American political pundit, social worker, and author of several books, namely Adios, America: The Left's Plan to Turn Our Country Into a Third-World Hellhole, and E Pluribus Awesome!.
With bold pronouncements against her political adversaries, generally Democrats and liberals, she constantly sparked controversy. Coulter began her legal career as a law clerk in Kansas City for Pasco Bowman II of the United States Court of Appeals for the Eighth Circuit.
Early Life
Ann Coulter's full name is Ann Hart Coulter, and she was born in New York City on December 8, 1961. Her dad John Vincent Coulter belonged to Albany, New York, and her mother, Nell Husbands Coulter (née Martin), was from Paducah, Kentucky. Her father was an FBI agent. Her two elder siblings, James Coulter and John Coulter reared her in New Canaan, Connecticut. Her brother John is an attorney, while her brother James is a Certified Public Accountant.
Coulter attended Cornell University after graduating from New Canaan High School in 1980. She was a Delta Gamma national sorority member in college, and she also helped create "The Cornell Review," an independent student-published journal that is now one of the major conservative collegiate magazines in the United States. She earned a BA in History from Cornell in 1984 and a Juris Doctorate from the University of Michigan Law School in 1988. She was the editor of the "Michigan Law Review" while at Michigan, and she also received training at the National Journalism Center.
Date with Dinesh D' Souza
Several prominent men have started dating Ann Coulter, but if you're curious about her marriage then she's never hitched! Ann Coulter began dating conservative author Dinesh D' Souza for a short time. They seem unable to establish a stable and brief connection. The pair's passion, unfortunately, ended after about just a few months. Regrading the relationship in 2002 she said, "I've dated him, I've dated every right-winger." Dinesh Joseph D'Souza born April 25, 1961, is an Indian-born American conservative political analyst, novelist, director, and conspiracy theorist who has been dubbed a "far-right provocateur" by the media.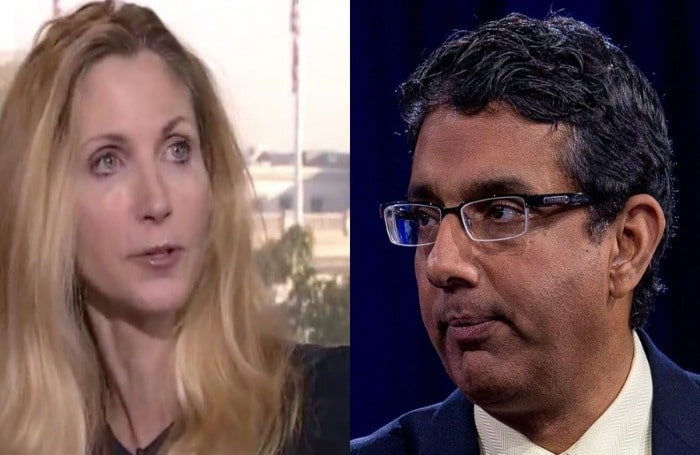 D'Souza has written several New York Times best-selling novels. D'Souza's film 2016: Obama's America, an anti-Obama polemic based on his 2010 bookThe Roots of Obama's Rage was released in 2012 and was regarded as the greatest conservative documentary of all history by Entertainment Weekly. In 2016, he produced a docudrama and book titled Hillary's America, the latter of which reflects his perspective on the Democratic Party's history.
History of Affairs
Thereafter, in the 1990s, Anna started dating Spin magazine's publisher and owner, Bob Guccione Jr., who indeed she dated for six months. An independent witness who spotted Ann and Bob kissing on a staircase was cited in a 2005 TIME article. I make out publicly less now that I'm universally famous, Ann wrote in a statement. Robert Charles Guccione Jr. born September 19, 1955, is Penthouse owner Bob Guccione's eldest son.
Ann Coulter began dating British artist James Tully in 1991. James Tully is a British illustrator. He was born on October 23, 1983, in London, England, and is most known for his films Spectator Sport' and 'Discontent.'
Following that, in April 2002, Bill Maher and Ann Coulter met. Bill Maher, 66, is an American talk show host. William Maher Jr. was born in New York City, New York, on January 20, 1956. He is best known for his roles in 'Politically Incorrect,' and 'Real-Time.'
Ann Coulter popped up on multiple occasions alongside radio broadcaster David Wheaton in September 2006. That year, the two were found in relation and lasted from September to October 2006. David Wheaton (born June 2, 1969) is an author, radio host, and Minneapolis Star Tribune contributing columnist. He used to be a professional tennis player for the United States.
From October 2007 to January 2008, Ann Coulter dated former New York City Council President Andrew Stein. Their passionate relationship lasted two and a half months. They split up due to irreconcilable issues. Andrew Stein (born Andrew J. Finkelstein on March 4, 194) is an American Democratic politician who served on the New York City Council and as Manhattan Borough President. Jerry Finkelstein, Stein's father, was the multimillionaire proprietor of the New York Law Journal, among other publications. When he entered politics, Stein abbreviated his name.
Rumors of Dating Jimmie Walker
Recently, speculations of a connection between right-wing journalist Ann Coulter and Good Times star Jimmie Walker swept Twitter and the internet in general. Jimmie, best known for his role in the 1970s sitcom Good Times, appears to be just pals with the conservative commentator. Yet neither Coulter nor Walker had commented on the charges, the conservative icon came to Twitter to address the rumors, "Best of friends, love him, no romance."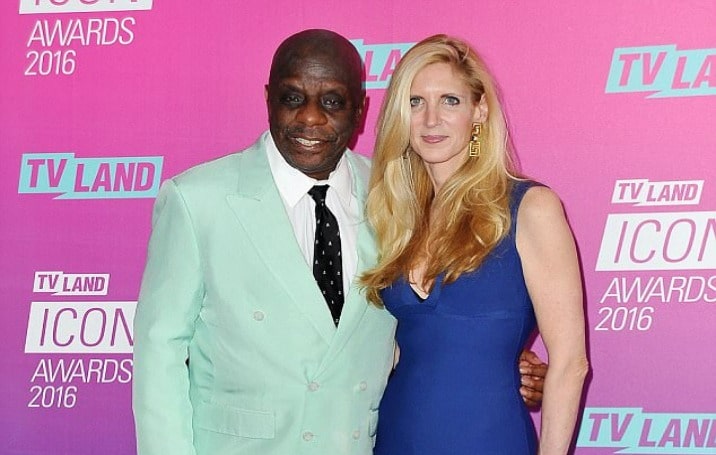 Ann stated that stories about her dating Jimmie Walker are never true. He's the one who started that dating rumor, In 2013, Ann told HuffPost Live. "No, we're really good buddies." We do a lot of things together... I see him a lot when I'm in L.A. because he's so funny, but we're not dating, she added. Coulter did not provide details on her Twitter account. She then returned to normalcy, ranting against Trump and pointless conflicts.
Searching for the Right Partner?
People are all aware that Coulter has already been in partnerships, and yet none of them survived long. It's an unfortunate reality nobody could create a significant place in her heart thus far. In other words, she is yet to dedicate time herself to a real relationship.
In a 2002 profile, The Telegraph teased that Ann was still looking for Mr. Right-Wing."I've been romantically involved several times. "I believe four," she told the publication. "However, I am not like every other American. I hoped to meet the ideal person before marrying and having children." She did not, however, reveal the identities of her ex-fiancés. "Oh, I don't recall all of them," she continued. "I don't worry about ex-lovers five minutes after they've left." She is a single woman as of 2022.
Career
Coulter began her legal career as a law clerk in Kansas City for Pasco Bowman II of the United States Court of Appeals for the Eighth Circuit. She then focused on corporate law after briefly practicing law privately in New York. Following the Republican Party's takeover of Congress in 1994, Coulter joined the United States Senate Judiciary Committee.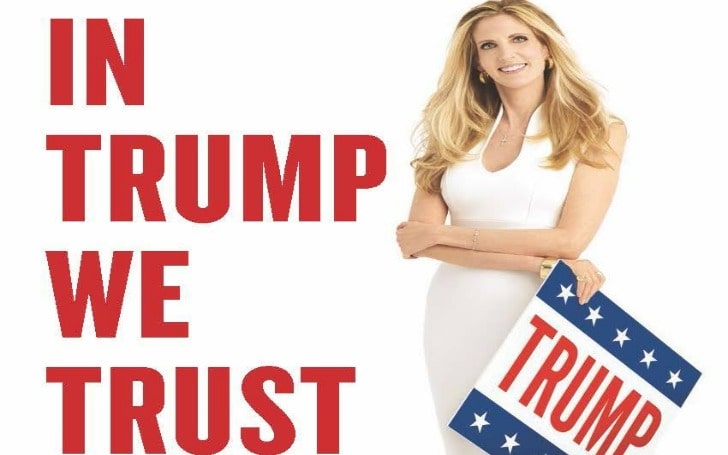 The lady worked with Michigan Senator Spencer Abraham on immigration and crime concerns, and she also helped write legislation to expedite the deportation of aliens convicted of serious offenses. She later worked as an attorney with the Center for Individual Rights. Coulter has also written 12 books and maintains a syndicated column in a newspaper recognized for its combative tone.
Net Worth
Ann Coulter has acquired substantial wealth as a consequence of her lucrative career. She is estimated to have a net value of $10 million as of 2022. Coulter earned around $500,000 in 2010 by giving talks on the speaking circuit about homosexual marriage, conservatism, and what she sees as the hypocrisy of current American liberalism.
Her professional life as a political analyst, novelist, social worker, and media figure in the U. S. has enabled her to earn a million. Thanks to the money she made from her employment, she is currently living a very happy and great life with her family. Her net worth and annual salary will almost certainly rise in the coming days.
Keep following the Glamour Path!
-->