Angelina Jolie's All 16 Tattoos and Their Meaning
Published Sun Sep 22 2019 By DGM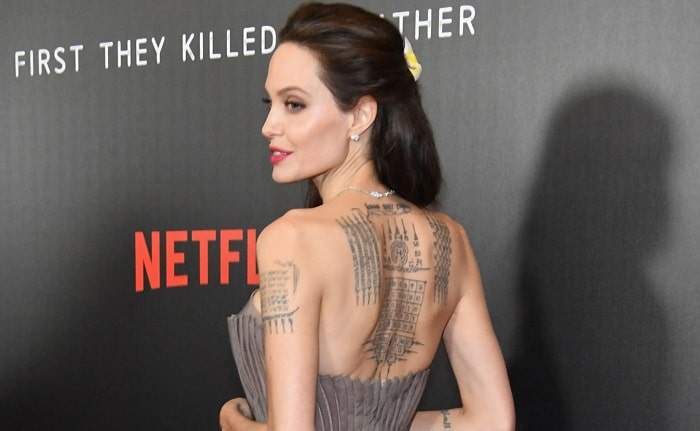 The famous American actress and one of the most gorgeous female celebrities, Angelina Jolie, has a total of 16 tattoos inked in her body to date.
Each tattoo that the 'Lara Croft: Tomb Raider' star has in her body holds a very special meaning for her. Here are all the tattoos that she has on her body:
Buddhist Swirls on Left Forearm
There are some Buddhist swirls inked on the left forearm of Jolie which are believed to be good luck and protection from evil.
Arabic Word on Right Elbow
Beneath the right elbow, the gorgeous actress has an Arabic word inked. The word means 'Determination' and symbolizes all the hard-work and dedication that she has put on her career.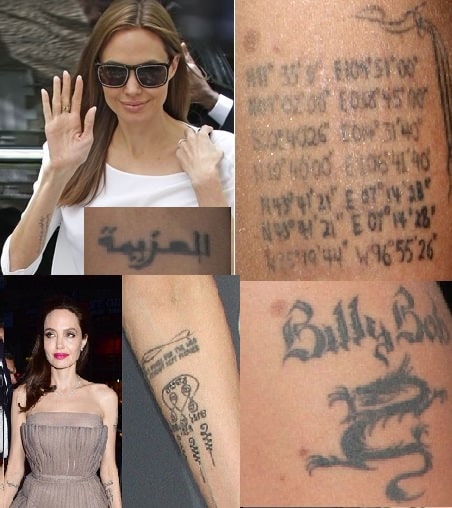 Dragon on Upper Left Arm With Writing
Angelina Jolie, when she was previously married to her ex-husband Billy Bob Thornton, she used to have a dragon tattoo inked on her upper left arm which represented wisdom and strength.
On the top of it, she also used to have 'Billy Bob' inked but as she divorced with him, she removed both the dragon and the name tattoo.
Coordinates on Upper Left Arm
Just where the dragon tattoo and Bill's name used to be in the past, there are some coordinates inked which represent the longitude and latitude of her children's birthplaces. She previously used to have only four kids so she had four coordinates but as she adopted other two kids who are twins, she added their coordinates too.
Moreover Jolie also added some swirls along with the birth coordinate of Finn Little, her seventh child whom she is also rumored to have adopted. However, some shade of her dragon tattoo can still be seen there.
Foreign Writing on Right Forearm
The wonderful mother of three has some sort of writing inked on her right forearm which appears to be more like Arabic encryption. The writing must be some type of proverb or quote.
Sak Yant Symbol on Upper Back
When Angelina Jolie was filming on Cambodia back in 2016, she got her upper back inked with the 'Yant Phutson' or basically 'Yant of the five Gods' symbol. It was inked by a Thai ex-monk Ajarn Noo Kanpai using steel rods mounted along a steel needle which is much more painful than usual surgery procedure.
The Sak Yant she got is very popular for Thai people and symbolizes showing mercy towards own-self. The tattoo also has a belief that it provides promotion and good luck in life.
Sak Yant Tattoo on Right Shoulder Blade
Jolie has a Yant Kraw Petch which is also called Diamond Armour has been inked on the right shoulder blade of the beautiful actress. The tattoo represents the powerful virtues of Lord Buddha and provides wealth, success, virtue, and luck in business.
Anyone who holds this tattoo is also considered to have protection from failure and bad luck in life.
Sak Yant on Center Back
The Sak Yant tattoo that Angelina has on her center back is a 'Yant ViHan Pha Chad Sada' which is also inked in the same day by Ajarn especially only for Angelina by the same procedure he used before. The ex-monk traveled all way to Siem Reap in Cambodia from Bangkok where the actress was filming.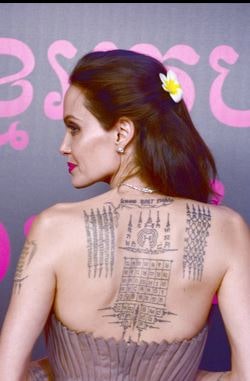 There are two yants in the tattoo where the upper one is a square box has magical text in it and the Sak Yant Talisman square is a representation of the four continents and the four elements of earth which are land, water, wind, and fire. Noo Kanpai only knows the full meaning of the tattoo and its placing.
Writing on Upper Back
The 'Wanted' star has a writing inked at the middle of her upper back which rads 'know your rights'. The tattoo means we shouldn't let go off our rights and should rightful demand what's ours.
Writing in Khmer Language on Her Left Shoulder Blade
Angelina, who has a net worth of $100 million, has a writing inked on her left shoulder blade. The writing is inked in Khmer, the official language of Cambodia and translates to
'May your enemies run far away from you. If you acquire wealth, may they always remain yours. Your beauty will be that of Apsara. Wherever you may go, may God will attend, serve and protect you, surrounding you on all sides.'
The tattoo basically refers to wish her Maddox Chivan Jolie-Pitt a bright future and successful life ahead. What a generous and loving mamma!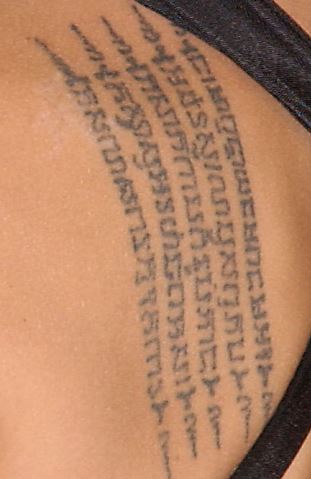 Writing on Left Elbow
On the inside of the left elbow, Brad Pitt's former spouse has a writing inked which reads 'A prayer for the wild at heart kept in cages'. The writing is actually the subtitle of 'Stairs to the Roof', a 1941 play by Tennessee Williams.
Roman Numerals on Left Forearm
The Roman numerals "XIII V MCMXL" which means 13/5/1940 are inked on the left arm of the mother of seven. Angelina Jolie had the tattoo in order to pay tribute to Winston Churchill who gave a remarkable speech about 'blood, toil, tears and sweat' on the 13th of May, 1940.

Writing on Belly
Angelina has another writing inked on her belly which reads "Quod me nutrit me destruit". The tattoo is inked in Latin origin and translates to "What nourishes me, destroys me."
Black Cross on Belly
A moderately big black cross has been inked on Jolie's belly just near the writing tattoo. The tattoo is considered as the symbol of faith to God and he is with us in every step of our life.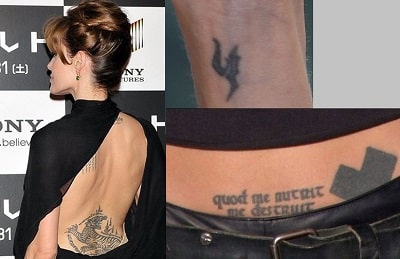 Bengal Tiger on Lower Back
A huge Bengal tiger has been inked on the lower back of the eminent actress. The tattoo is a pure symbolism of power and strength along with independence of the one who has it.
Alphabet 'h' on Left Wrist
The 44 years old Angelina Jolie also has an alphabet 'h' inked on her left wrist. The letter is supposed to represent her brother, James Haven's name.
Follow Glamour Path for more information about other celebrities' tattoos.
-->