Amanda Lepore's Plastic Surgery and Disaster – Before and After Pictures
Published Mon Nov 11 2019 By DGM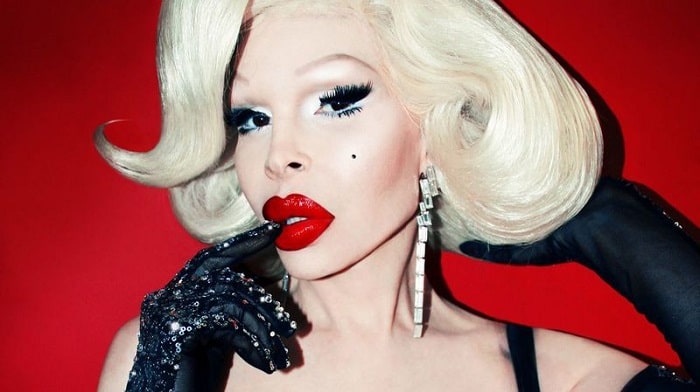 The famous American singer, model, and celebutante, Amanda Lepore, has gone under the knife and had plastic surgeries several times. Her surgeries include multiple breasts implants, lip augmentation, and double eyelid surgery.
Lepore has always been very open to the world about all the cosmetic changes that she has had. She even claims her body to be the most expensive body on earth. Here are the plastic surgeries she has had:
Gender Reassignment Surgery
The 51 years old singer underwent a gender reassignment surgery and changed her gender from a transgender to a female. She was just 19 years old, when she had the expensive and distinct surgery. As she had a male's body and behaviors like a female, she had to make things right.
The treatment was able to change her sexual parts and turn them into that of a female. The surgery is thought to have cost her at least $10,000.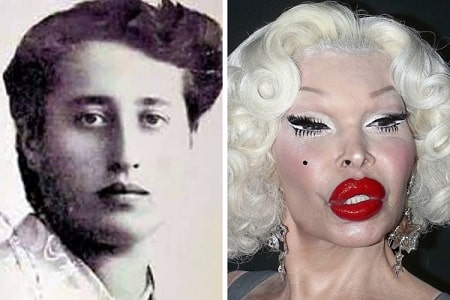 Amanda also has to take medication for increasing hormones of a girl. She takes a 1.5 mg Premarin pill every morning following with 1 injection of a cubic centimeter of estradiol valerate injected in her body every month.
Mammoplasty - Breast Reduction Surgery
Mammoplasty which is also known as breast reduction surgery was also done three times by the wonderful fashion influencer. Following the sex reassignment surgery, her breasts were unnaturally bigger which she didn't like and was causing her a lot of problem. Therefore, she had to reduce her breasts through breast reduction procedure.
Cheekbone Augmentation
Lepore, who holds a net worth of $1.7 million, has also openly said that she had a cheekbone augmentation done in order to make her cheekbone look heart-shaped and more prominent than before. For this, she had to have a total of 12 treatments worth $2400 where every time her cheekbone was injected with microdot of silicone.
Rib-Reshaping Surgery
Back in 2000, Amanda Lepore visited Mexico and had her bottoms rib re-modified because she wanted to make her waist smaller. She had her bottom ribs broken and pushed in by a Mexican surgeon.
According to her, it help her to look even more slimmer than before. And as she desired a slim body, she did what she called 'corset training' for every day wearing a garment. She said that she spent $1500 for the surgery in Mexico.
Double Eyelid Surgery
Two years back, the 'Another Gay Sequel: Gays Gone Wild!' star removed the baggy skin around her eyes as she was facing aging signs. She also enlarged the size of her eyes at that same time. She also revealed that it cost her whopping $9,000 for the eyelid surgery.
Lip Implant
Amanda Lepore's lip implant is something that most people and surgeons consider as plastic disaster. It is because her lips have increased dramatically after she injected them with cosmetic fillers. Following is a picture of how she was in the past vs how she looks these days: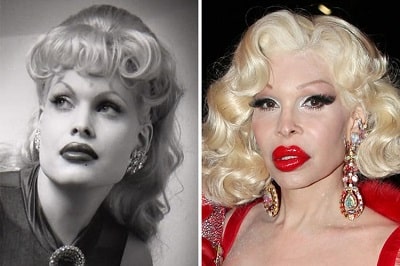 As you can very well see, the celebutante's lips appear so absurd and puffy as the result of her post-surgery outcome. Both of her lips have become fuller and equally proportional to one another. It appears that her lips got into the hands of a bad plastic surgeon. But it doesn't seem like she regrets it because she says that she admires the change.
Rhinoplasty - Nose Job
Lepore also underwent a rhinoplasty aka nose job to alter the appearance of her nose. Luckily, she didn't have to pay anything because the surgery was actually a gift from the plastic surgeon who was a good friend of her. She trimmed some part of her nose and sharpened the tip of her nose from the surgery.
Eyebrow Lift and Hairline Lowering Procedure
In 2000, the New Jersey born model Amanda Lepore had eyebrow lift and hairline lowering procedure so that her face could look more like a girl's. The dual procedures which she did at that time helped her forehead become more rounder and smaller giving her that beautiful and round face.
Follow Glamour Path for more latest information about celebrity plastic surgeries and their reviews about them.
-->