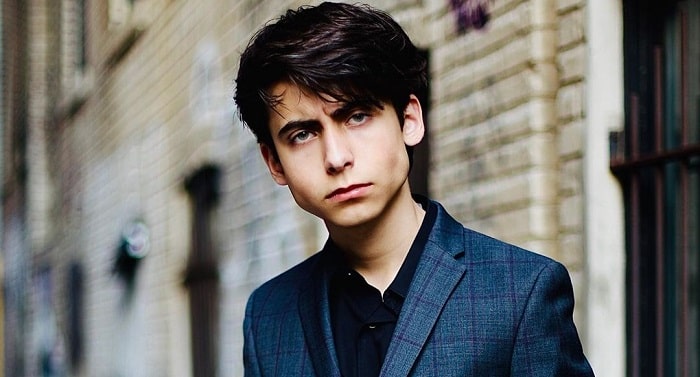 Aidan Gallagher is a famous American actor and musician who rose to fame after appearing in the comedy television series 'Nicky, Ricky, Dicky & Dawn' as Nicky Harper, one of the quadruplets. He recently appeared as Number Five in last year's successful Netflix action series 'The Umbrella Academy'.
Gallagher was born on the 18th of September, 2003, in Los Angeles, California, of the United States. Here are some facts about him:
What's his Net Worth?
Aidan Gallagher has an estimated net worth of $600,000 which he accumulated from his career as an actor, singer, and songwriter. He has had a very successful career so far in whichever profession he has involved.
Is a Talented Musician
Apart from being a sensational actor at just 16 years old, Aidan is also a super talented musician. Not only he is a gifted singer and songwriter, but he also has great skills in playing guitar and piano. He also works as the composer and producer of his songs.
Due to his exceptional talent in music, he gets to travel worldwide as he goes on musical tours. He keeps updating on his social handles where his upcoming concerts and tours are about to be held. He has earned quite a lot of fame and money from his profession as a musician.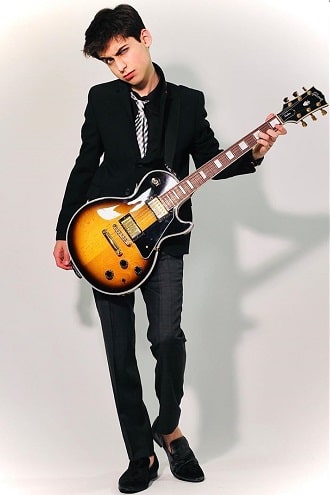 Vegan and Vegetarian by Birth
Gallagher has always been vegetarian since the day he was born. He doesn't eat any kind of meat items, not even fish. He thinks that eating non-veg foods is just so unsustainable for him. Instead of meat, he prefers eating fresh vegetables and fruits to keep himself healthy.
As he also is a vegan ambassador, he advises his fans not to eat non-veg and to take care of their healthy with healthy and nutritious vegetables.
Became the Youngest UN Goodwill Ambassador Ever
Back in 2018 when Gallagher was just 14 years old, he was named the UN Goodwill Ambassador for North America by UN. He became the ambassador for environment conservation and the ways to prevent the world environment.
By becoming the ambassador of the intergovernmental organization at a young age of 14, he still is the youngest goodwill ambassador to be named by the organization.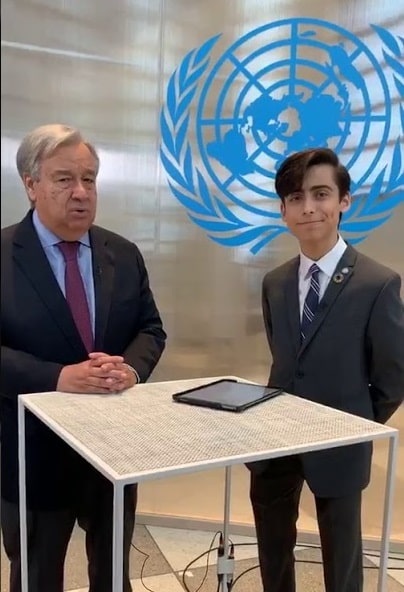 As Aidan is the ambassador of UN, he very often makes it to the charities and functions held to raise awareness among people regarding the approaches and ways to prevent global warming and conserve environment.
GOT is His Favorite TV Show
Being a television show actor, Aidan loves watching television series while sitting at his room during his free time. If you think that his favorite show is his series which he worked along with Robert Sheehan and David Castaneda, you're definitely wrong. He is a hardcore Game of Thrones (GOT) fan which made it into its final series last year after a eight years long journey. He might have also been sad by the ending of the series in such a way as most of the GOT fans.
Is Really Bad at Try Not to Laugh Challenges
The 'Nicky, Ricky, Dicky & Dawn' star once opened up that he is pretty bad at try not to laugh challenges. He said that he can't just help him but burst up laughing at every moment he does the challenge with his friends and co-stars. It might be because of his fun loving nature that he cannot help him but burst up laughing in every little part.
Also Appeared on 'Modern Family'
We surely know that Aidan Gallagher is known for 'The Umbrella Academy' but he also made his television appearance in the hit television series 'Modern Family'. It was back in 2014 in episode 18 of season 4 when he appeared as one of Lily's schoolmates who gets bullied in the boyfriend. Who knew that the innocent schoolboy we saw back then as a supporting star would look so awesome playing a major role in his own series.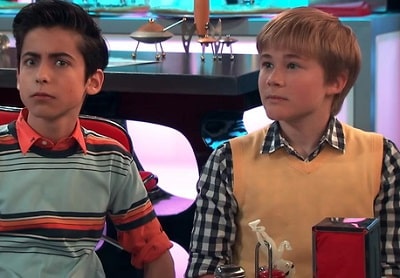 Little Secretive About His Parents
Gallagher is a very cheerful and open minded person but he is a little bit secretive about his parents. As very little is known about his parents, he hasn't disclosed much information about them. His father's name is Rob Gallagher whereas his mother's name isn't known yet but he has shared a picture with her. Other than that, he hasn't made
Physical Specifications
Aidan stands at a height of 5 feet 3 inches (1.60 m) and weighs around 116 lbs (53 kg). He has a pair of green eyes and brown hair.
Active Social Media User
The 'Number Five' portrayer is active on Twitter and Instagram where he usually keeps uploading pictures and videos at a regular basis. His account on Instagram goes by the name @aidanrgallagher where he has amassed 2.7 million followers. Moreover, he also has gathered 181.9K followers on his Twitter account.
Check out Glamour Path if you want to see more of the latest and interesting information about other celebrities.
-->