Adam Levine's Daughter Gio Grace Levine With Wife Behati Prinsloo – Photos and Facts
Published Sun Jun 09 2019 By DGM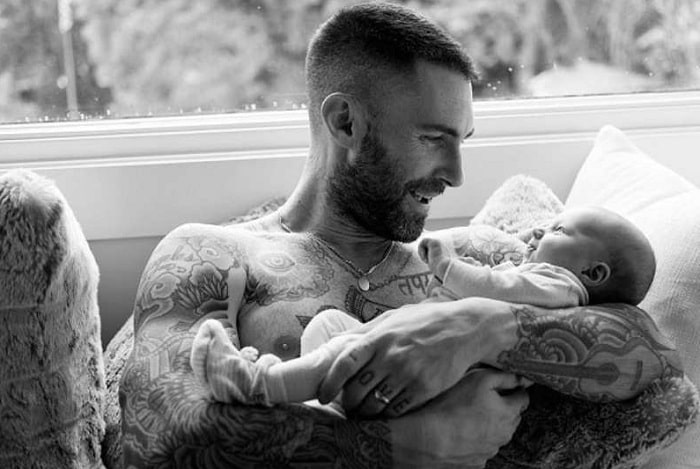 Born as the second daughter of the prominent celebrity couple, Gio Grace Levine is the daughter of the American singer, Adam Levine with his wife, Behati Prinsloo, a Namibian model. Gio was born on the 15th of February, 2018 having Aquarius as her birth sign. She has an elder sister, Dusty Rose Levine, from her lovely parents.
The name "Gio" is originated from Italian Origin which means "God's gracious gift". And as for "Grace", we all know that it has different meanings such as elegance, beauty, ease and dignity. So, we assume that Adam probably kept her daughter's name 'Gio Grace' because she is a beautiful and gracious gift to him from the God.
Rich Parents of Gio Grace Levine
The three times Grammy Award Winner, Adam Levine, has a whopping net worth of $120 million. He is able to amass such a huge amount through his professional music career. The 40 years old songwriter earned $13 million from the singing show "The Voice" where he was a coach/mentor. He has a luxurious house in Beverly Hills worth $40 million.
Gio's father is the frontman of the famous rock and pop band "Maroon 5" and has given many hit songs. The song "Girls Like You" which released last year won the hearts of millions and earned Levine a great name and fame.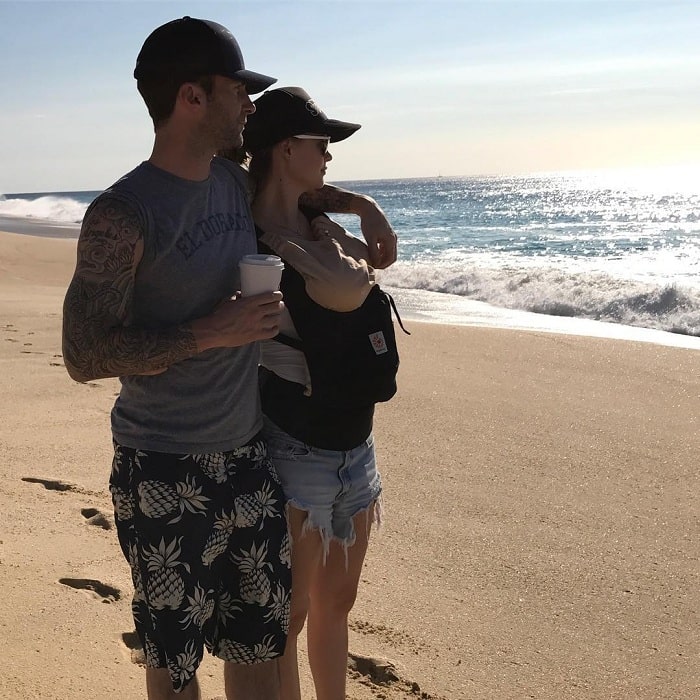 Talking about the Victoria Secret's Model, Behati Prinsloo, she has a huge net worth of $12 million. She earns a high amount of money from her professional career of Modeling. Also the Brand Ambassador of many fragrances and clothing lines, she is likely to generate great quantity of dollars from them.
Gio Grace's mother is also a philanthropist and also went to Haiti in 2010 on a charity trip after the devastating earthquake destroyed the nation in half. She is also currently working on a mission to save wild animals of the world.
Adam's Younger Daughter Celebrated Her 1st Birthday
Last February, Adam and his wife celebrated their younger daughter, Gio's birthday with a great bang. The party was themed with many colorful balloons decorating ceilings of the room and multiple vases with beautiful flowers lined the dinner table. Behati even decorated the walls with giant golden balloons that said "Gio is 1."
Gio got the sweetest birthday gift of her life in the form of a video recorded by her wonderful mother on her Instagram stories. In the video, the little angel danced along to "Where You Are" from the movie Moana. As she watched the video on the Television, she bopped back and forth with happiness. What a lovely moment to admire!
Gio's Sibling
Gio has an elder sibling (sister), Dusty Rose Levine, from her parents; Adam and Behati. Her sister was born on 21st September, 2016 with the birth sign of Virgo.
You would be somehow amazed to know that Gio's sister's name was kept by the famous American comedian, Ellen DeGeneres. The 61 years old (as of May 2019) celebrity is a good friend of Adam and helped in naming his first daughter while they were texting each other regarding the topic.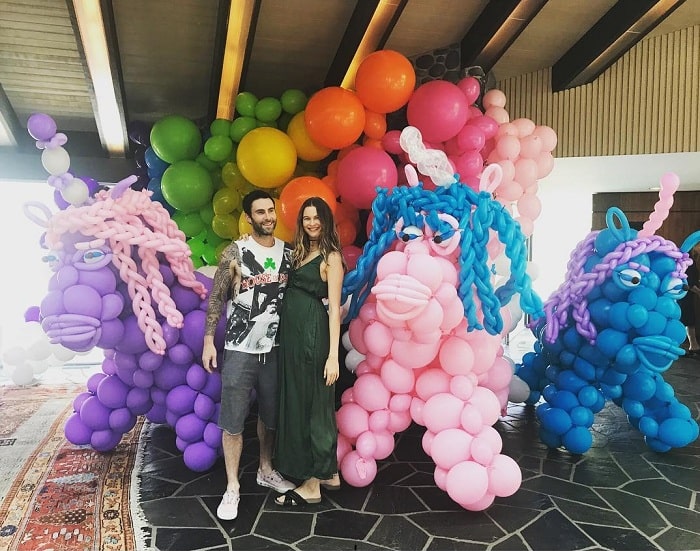 Dusty celebrated her 1st birthday with a big bash last September with a party having a theme of unicorn balloons. Behati and his husband enjoyed the birthday party of their first daughter and also posted a picture beside the balloons. It seemed like that the parents enjoyed the party way better than the kids did.
Dusty Rose Is Obsessed With Her Sister, Gio Grace
In an episode of The Ellen DeGeneres Show, Adam said that his elder daughter, Dusty, is all over his younger daughter, Gio. The "Don't Wanna Know" singer added that when Dusty wakes up in the morning, the very first thing she does that she goes to Gio's room and calls out her name repeatedly. This probably makes everyone go "Aww!!", isn't it?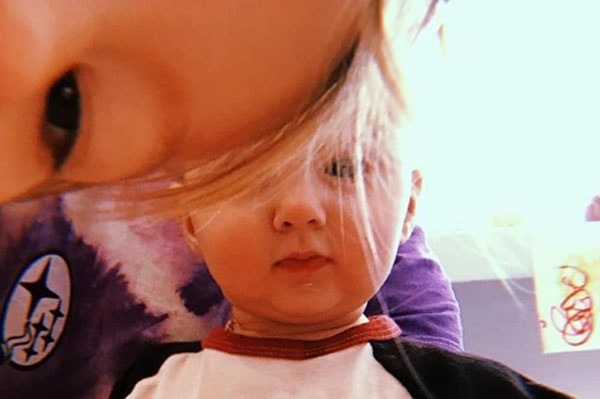 Behati's husband also admitted that his 2 years old (as of May 2019) daughter is a bit rough on his younger daughter and what can we do? She's a little baby after all. She probably has the obsession inherited from her mamma because she is also obsessed with Adam in a good manner.
Grace Is Going To Have More Siblings
The 31 years old (as of May 2019) Behati recently told on an episode of The Ellen DeGeneres Show that the possibility of having more kids is relatively high. Her husband on the other side, the front-man of Maroon 5, wanted a total of five kids as he wants a band of children.
The mother of two also said that previously, she wanted five kids, but now, three or four will be good. The talented host Ellen, then teases Behati by saying "backing up." Replying to that, "just by one", said the Namibian super model. So, are we going to see more adorable babies from the couple in the near future?
Well, whatever the sweet couple plans of having more kids is up to them. We, their fans, will surely be happy of their decisions and we think that they can always talk to Ellen for naming them as she has already done it before for their first daughter.
Visit Glamour Path for more celebrity babies and their information.
-->