Adam Levine's Daughter Dusty Rose Levine With Wife Behati Prinsloo – Photos and Facts
Published Tue Jun 04 2019 By DGM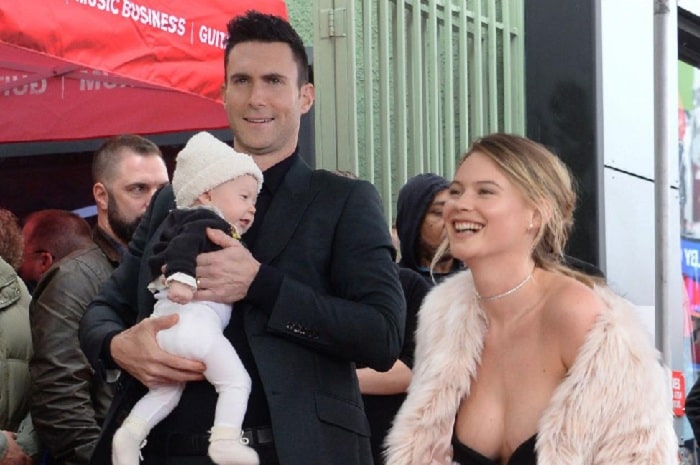 Dusty Rose Levine is the elder daughter of the three times Grammy Award Winner Adam Levine and his wife, Behati Prinsloo. She was born on 21st of September, 2016 and has a younger sister, Gio Grace Levine, from her parents.
The name 'Dustin' is believed to an altered form Thurston, that is taken from the Old Norse Thorstein (Thor's stone). And as for Rose, it is the name for girls according to Latin origin and means which means "rose, a flower." It is also added to the list of gorgeous names for babies.
The Love Story of Dusty's Mom and Dad
Dusty's parents came to know about each other back in 2012 when her dad, Adam, was looking for a model to appear in his music video. A mutual friend of his and Behati's gave him the email of her and the two began texting each other. Though the supermodel didn't have the time to take the job, she made sure that the two met each other in a few weeks.
After emailing each other for a long time, the two met in person when Prinsloo came in L.A. looking for a job. She said that she remembered walking in; she said it was the moment where the light shined into the dark studio and everyone turned to look at her. Levine had his boxing gloves on and came to hug her. "It was so awkward", she said.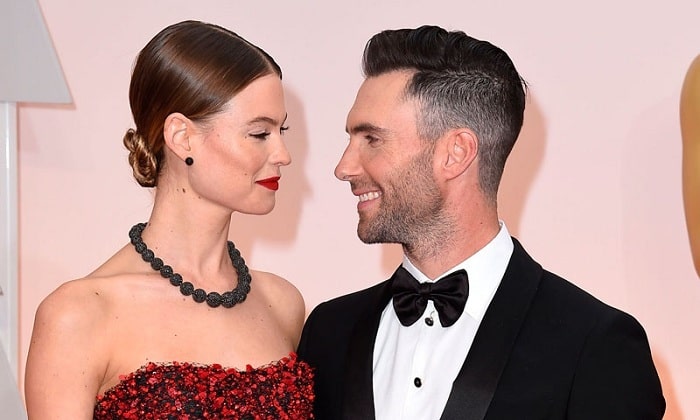 After that, the two of them went for dinner and talked for hours and the best time together. Behati told that she felt like they each other very well. In an interview with a famous talk show host, Andy Cohen, she said: "It was kind of love at first sight because we had that constant kind of back and forth."  
The couple broke up for two months but later, realized that they made the worst decision and came back together and have been inseparable ever since. They tied the knot in 19th July, 2014 and share two beautiful daughters.
Rich Parents of Dusty Rose
Adam Levine, the father of two, has an estimated net worth of $120 million and amasses such huge amount through his professional career as a singer and front man of the commercially successful band "Maroon 5." Besides, Behati's husband was also a coach on the famous singing show "The Voice" where earned an amount of $13 million.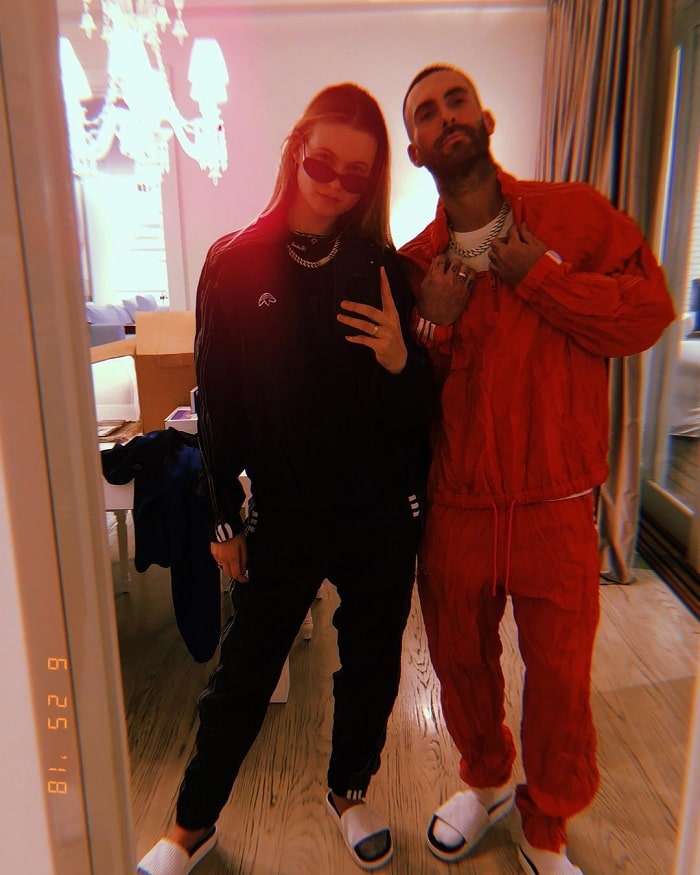 Talking about Dusty's mother, the Namibian fashion model has a massive fortune of $12 million. Behati Prinsloo is the brand ambassador of many clothing lines and fragrances. Also, she is a philanthropist and has taken a charitable trip to Haiti after the 2010 earthquake which devastated the small nation. 
The "Payphone" singer's wife is very soon, going to model the $6 million "Birds of a Feather Fantasy Bra" in Victoria's Secret Fashion Show. We can't wait to see the gorgeous lady owning the stage!
Sibling
Dusty has a younger sister, Gio Grace Levine, from her parents born on February 15 2018. She is a year and half younger than her elder sister. 
1st Birthday Celebration of Rose Was Lit!
Adam and Behati, celebrated their elder daughter i.e. Dusty Rose's first birthday throwing a huge party. The party was colorful and featured enormous unicorn balloons as theme. The 40 years old (as of May 2019) Adam and his wife made sure that they spent all the day with their daughter.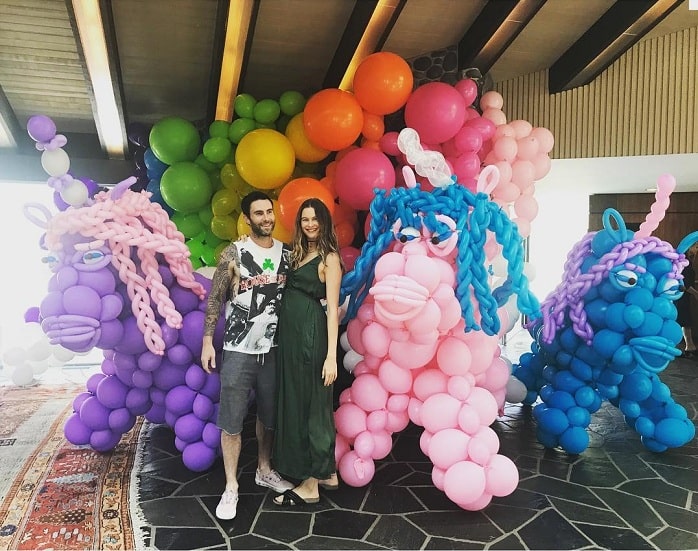 Prinsloo also shared some pictures of their daughter's birthday celebration with an adorable caption "We made it around the [email protected] Not sure who enjoyed these wise old unicorns more, me or the kids. Thank you @johnalfordballoons"
Behati was pregnant with their second child i.e. Gio Grace Levine at the time when she celebrated her daughter's birthday with a huge bash. This means that directly or indirectly, Gio also got the privilege to attain her sister's birthday from her mother's womb.
Dusty Appeared in Her Dad's Music Video
It was back in May, 2018 when the elder daughter of Adam, Dusty Rose appeared in his and his band's music video "Girls Like You" along with her 31 years old (as of May 2019) mother. The song also featured the "I Like It Like That" artist, Cardi B.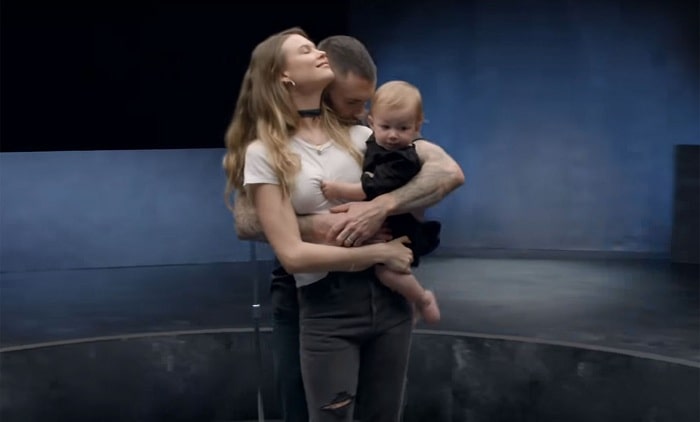 The music video starred several women celebrities including Gal Gadot, Jenifer Lopzez, Camila Cabello. The Dusty makes a surprise appearance at the end of the music video with her mother, Prinsloo. The song was appreciated by the fans of Adam and Maroon 5 from all across the world.
Ellen DeGeneres is Responsible For Naming Dusty
Ellen DeGeneres, a famous American comedian, is a good friend of Adam. Naming a child is not as easy as picking a fruit from a tree and similarly, the former "The Voice" mentor also was having difficulties in naming his first child. 
Eventually, Adam thought of a name and immediately texted Ellen asking "What do you think?". She said that she didn't like the name and it was terrible. And then DeGeneres gave him about five names to consider and when she said Dusty, Adam instantly replied with "You basically named my kid."
Behati didn't like the name at all and she said that Rose was a better name as it was a beautiful color as well. But Adam'd already thought of the name and didn't want to name any other names. Then someone said the name "Dusty Rose" to him and then he confirmed that it was going to be their daughter's name.
Visit Glamour Path for more Celebrity Babies and Their Information. 
-->